We catch up with Selador label manager, Steve Parry and find out how he managed to build one of the biggest new labels in the scene. 
Hi Steve, tell us a bit more about yourself and how you got in to music
Steve Parry: I started off wanting to be a radio DJ. But one that played dance music, and mixed on the radio (this was unheard of then), but didn't make a big deal out of it… 25 Years later this is pretty much the norm.. but I least I had that idea ahead of the curve! 🙂
I've worked in the Music Industry since I was 15. I started off doing mobile disco's in 1987, playing music to drunk aunties at weddings and christenings, 18ths and 21st birthday parties… I learnt my craft doing this. I understood different types of music made different sets of people dance, and I realised how to transition and bridge between the styles so as to constantly keep a dance floor moving, it made me think about what order to play music. You learn about musical programming and realise there are some tracks wake up the dancefloor. Some you save for the end of the night. I still use those basics today. Tune selection is vital to be a successful DJ.
I moved in to clubs and bars, starting with one gig, and then within months, and when i was 18 – I was playing 3,4, and 5 gigs a week, was a crazy time! And I loved it! 🙂
My first 'house' residency was at 'Bliss' a Monday night in Liverpool at 'Fallows', I was the warm up DJ, keeping it deep, before Dave Ralph (the DJ that gave me my break in to clubs) did his stuff. It was rammed in there. We used to have guest DJs including Sasha, Dave Seaman and Laurent Garnier, and it was normal to have 1000 clubbers on a Monday night!
As time went by I kept DJ-ing, and held several small residencies and start deploying up and down the country, I even did 2 summers in Greece, playing 7 days a week, was top fun!
My first proper own night was called 'aderaan'. It was run in the Lemon Lounge and started in 1996, in a small room above a pub. It was dark, a bit grotty, the sound system wasn't too good, there wasn't a monitor speaker and the lights weren't too hot… haha… but myself and Mike Owen started off a crazy little night and it ran weekly for 5 years playing seriously upfront progressive house. The capacity was 100 people, and we had Howells, Zabiela, Burridge, Pappa, Parks & Wilson / Til, Cass and Quivver all play regularly. When I look back we had so many good DJ's playing that tiny room. The atmosphere was amazing. The crowd came to hear the newest of the new exclusives and the DJs thrived off that!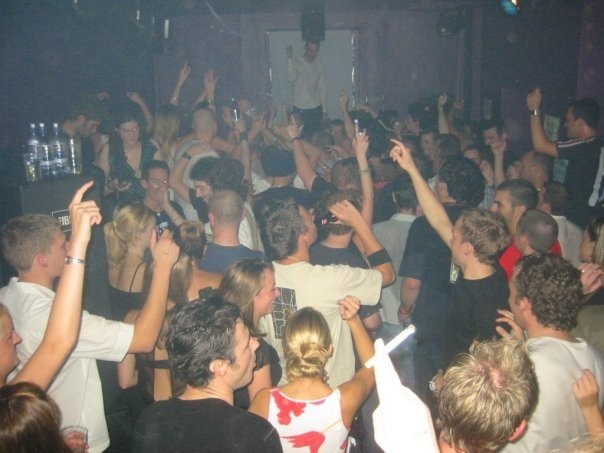 I ended up working in 3 Beat Records, which was my dream job (I'd been stalking them for years as a punter and potential employee!). This led to regularly playing at Cream – that was amazing. This was a 'superclub', in your home town, with the Worlds biggest DJ's weekly, the place where I went to if I wasnt DJ-ing… and I ended up being resident. Was a dream come true. Warming up for Sasha to Tiesto, Tong to Morillo, Kleinenberg to Burridge, with 100s of my friends out raving in from of me… was pretty special. Plus one of my best friends, who I hung around with and went clubbing with for many years was also a DJ and managed to get a residency too, his name is Yousef… whatever happened to him haha!? Good times!
As i mentioned, I always wanted to be a radio DJ – and in 2002 I managed to get a weekly radio show on Juice FM, playing exactly what I wanted, this was a lifetime ambition. Ovcer time this grew to 2 shows a week, Friday was House Nation playing the Housier end of my musical repertoire and Saturday was the Red Zone where I took things tougher. To be honest when I started, I thought I may be lucky to last through my 6 week trial (as my music was so different to anybody else on the station).. so to celebrate the 10th birthday of being on air was quite an achievement. I had the Worlds biggest DJs in the mix and interviewing them every week. It really was beyond belief.
You've told us you worked at legendary 3Beat Records in Liverpool. With vinyl seeing a resurgence in recent years, do you think there's still a place for record shops?
The one thing that is lacking in the music scene is the hub of the record shop. That one place where you could go and meet other DJ's. No matter what music they played, you could always chat to them about new ideas, new music and make new friends. It was a place where people passed on gig info to each other and offering remix and production work, a place where a 15 year old who was new to it all could stand and chat to a DJ idol they admire. With the demise of the record shop, this social aspect has disappeared, and its quite sad. Yes there are still record shops, but people don't really go in anymore like they used to do.
Saying that, I still buy vinyl, as labels are clever and release specific version on vinyl only, or month before the digital release. Its a great idea. I do hope that people will start to fall in love with vinyl again, and they will, but slowly and never to the levels it was years ago unfortunately. Vinyl has a few downsides. Its expensive, its heavy (if you try lugging a box full of 80 records on to a train/plane/bus for example) and it takes a while to manufacture… obviously mp3s have no weight, they're cheaper and they're instant, so it makes so much sense for them to be the format to trash the trusty vinyl out of the way….
You've been running Selador for over a year, how has it gone so far?
Its been great. A lifetime long ambition achieved. I suppose I always wanted to make sure it was really done properly rather than a half baked effort, as your reputation is associated with the label and the music reflects your personality. So as people who know me will know, when it comes to music, I'm very fussy about what I play when DJ-ing, and so I needed to bring that philosophy to the label.
For the first year, we have been very pleased with the labels output and the support it has gained from DJs around the Globe. It was never about making money, it always always about putting out a quality product and reflecting both mine and Dave's musical diversities and love for all things underground.
How did the partnership with Dave come about?
I've known Dave since 1991 (showing our age there!). We've DJ-ed together many times, and I've always been a fan of his. We have worked on various projects together over the years, from me selling him records when i worked in 3 Beat and a few other things, and we always spoke about music on virtually a weekly basis. When I explained to Dave i was finally setting up a label over a messenger conversation, he suddenly excitedly phoned me and explained that he wanted to start a label again, and would I be interested in doing it with him. Ironically I wasn't sure at first, as Dave is a hugely successful name and has been for decades, and I didn't want everybody to think it was only Dave's label. However Dave assured me it would be a joint label, and good to his word, he always mentions me in interviews and bigs me up! (good job, or there would be trouble!).
Do you think the label has found its own sound now? If so, what is it?
Genres confuse me. One man's tech house is another man's techno, while another will call it house… and what Beatport call progressive, certainly isn't what I know it as.
We just wanted good music. Music we both like. We never wanted to be trendy or band wagon jumping, we just wanted good music, We didn't want to sign music just so it would sell, we just wanted good music, whatever musical form it was in. Our philosophy is that we both have to love the music and would both play it in a DJ set, if it passes that, its in! That's how we sign stuff. And yes there have been a few mildly heated conversations about us signing a track or not haha! people laugh when I tell them that i regularly decline tracks from Dave for Selador. But maybe thats why the partnership works. We both know what we like, and we both have similar broad musical tastes. Also we've known each other for long enough to be very straight with each other, so if Dave or I make a track, and the other doesn't really love it, we aren't going to be releasing it!
Tell us what things frustrate you when you're getting demos? One thing i've noticed on a lot of demos from the new guys is – the low end seems to be lacking. This is probably due to the speakers that they're using but I think more people need to realise out there that bass in clubs is important. Are you finding the same things when you're getting demos? Also some of the mixdowns tend to be a bit dodgy, so are you looking to take tracks on tracks that you don't need to work on? Or will you work with the artist to get it right? Do you ever get tracks stem mastered? Or does the artist need to handle this? How can people get their demos to you btw?
As I mentioned, we are fussy. The demo has to sound good to us, or it doesn't get any further. It doesn't need to be mastered, we just need it to sound good. I think artists should really think about what they are sending to a label. They should certainly send to labels who are of a similar musical ilk to the track (We get EDM and trance demos. I find that quite annoying to be on part of a mass mailout when the artist hasn't give the label any thought).
Mixdowns and lacking stuff can be a problem. If I make a track or remix, I'll be honest, I can't get it up to release standard quality, so I will go in with an engineer to help me do that. Thats what they do.
Also yes thats a good point – there have been several occasions that we have guided people or given possible changes that may improve the track for us a label. Thats proper A&R-ing. Thats what labels used to do, but seem reluctant to do it nowadays.
People have sent us unfinished tracks, but the ideas have been great – so we have passed comments for what would work for us…
You've also been producing across the last year. What is your best way of working in the studio, do you use an engineer? And what software and hardware do you favour?
I can produce myself, but to be honest I'm quite slow at it, so yes I do use an engineer, Paul Nolan. He understands me and my musical tastes, and is also good enough to put up with me! The reason I use an engineer is that he can make my ideas come to life so much quicker. Everything is still my idea, but we do bounce ideas off each other and try a few crazy things to see if they will work, and sometimes those freaky things can be an important part of the track.
We've been using Logic. Its what I know most about and has a great sound, however for the last remix I made, we tried Ableton, and the workflow was really fast, we went from loading the parts to being the fully mastered completed remix in 10 hours.
Workflow wise I suppose we try and pick out a few key elements, manipulate them, until there is a bit of momentum with plenty of potential ideas and then start laying out the track from the beginning of the track. Sometimes this way the music almost writes itself as it all develops.
Just wish I had more time to get in the studio more often, as its something I enjoy doing, and also one of the reasons I wanted to start a label was so I would do more production work. We are looking at scheduling lots of sessions over the summer and autumn, original tracks and remixes, so watch this space.
You also run a promo service called SMP3. How did this come about and how do DJs become involved with it?
Once the vinyl age had come to an end, and I had left 3 Beat Records, I was chatting to a few DJs about the future and if there was anything i could do… it was a combination of chats with John Digweed and Timo Maas that helped me bring the idea together of SMP3 Music Management, which is me sourcing music for DJ's still, from filtering through promos, looking through sound cloud, buying the best vinyl only releases and liaising with artists and labels to get my DJs exclusive tracks for their sets… pretty much what i was doing at 3 beat, but for the digital age. I work with some big names including Sasha, Tiga, Just Be, Dave Seaman, Blondish and Sander Kleinenberg amongst others, i love it, every day's different, every day its exciting and because I live for music, so its the perfect job for me!
The other part of the company is is working with record labels for SMP3 Music Promo… helping the labels get thier music to the DJs that are right for each release, hand picking the Djs that get each promo (as every release is different, and so i promote each release to a different target audience of DJs for maximum exposure). Working with Sudbeat, Lost & Found, Rhythm Converted, Under No Illusion, microCastle, Selador and many more… just about to hopefully land two HUGE labels this week as well.. watch this space!
Do you feel conferences are important in the scene today? Why should label owners attend them.
Its the social aspect I mentioned that makes the World go round in the Dance Music Industry. Be it going to clubs or attending Music Conferences. I dont go out clubbing as much as I used to DJ and don't have so many gigs as yesteryear, so most of the time, I'm working at my home office as a proper billy no mates! So conferences are great for me. Infact, I see Dave Seaman more at conferences than at any other place and we run a label together haha.
ADE is brilliant for me. Its an hour-ish fligt away, and I meet soooo many people over there. I set many meetings up, and try and spread it out between people I work with already, some industry contacts I already speak to, and some potential business connections. Its manic, but you get to meet so many people, who in turn introduce to somebody else who walks past you on the street, who happens to be with somebody else… or in the clubs, you meet loads of people that are friends of friends… Its amazing for making new connections or chatting to people you only normally send emails to.
…last year for example standing in a club watching Digweed, when Dave introduces me to Danny Tenaglia (i got star struck and couldn't really speak!), 2 mins later Guy J walks in with the full Israeli techno mafia and I'm chatting with Lonya, Guy Mantzur, well the whole gang of about 20 DJs haha… Jimmy van walks into say hello… oh look there's Sonic Union, so I have a little dance with him and his lovely missus Lucy (who worked for Anjuna) .. it's trainspotter heaven.. it just goes on and on..
I went to BMC this year (Brighton Music Conference) as its about time we had a UK conference, so hats off to John 00 Fleming ad the gang for sorting it out, was good to see everybody on home soil!
You're a DJ and have recently started a new show on Frisky Radio. Tell us a bit more about that.
Well since leaving Juice FM, I missed doing radio… its always been a passion.. and so Frisky offered us a Selador Show, so I lept at the opportunity! Its an hourly show, presented by me, playing some current and future Selador bits with a splattering of tunes that are floating my musical boat. The Selador Sessions is on every 2nd Thursday of the Month at 11pm
What gigs does Steve Parry have coming up?
This Saturday I have Luna with Pyscatron and Adele Moss – I love both of these DJ's, so very much looking forward to it. We started Luna as we wanted to bring back intimate clubbing vibes… the boutique is our venue, its great! Funktion One sound system is booming in there and a great little underground (literally) vibe and friendly crowd.
I'm playing at Latitude Festival in July – looking forward to that.. just lining up another Ministry Of Sound gig, and another Luna to announce soon… there are more bits but we haven't released info about those as yet.. soon!
Can you give us the scoop on what's in store for all the lucky Selador fans out there?
Next up are remixes of Chris Fortier – Music Makes The Body from Wehbba and him_self_her. I love these remixes… that's released end of June.
After that we have signed some tracks from Chaty, Tamez & Gabriel I – 3 great Meixcan DJs and producers that have made some monsters for us!! We have remixes from Dave Seman, Climbers and Joal – heres a peak at Daves mix – its a monster!
A few other things in the pipeline from AFFKT and Robert Babicz…. but I can't say too much about those as yet…
And we are looking at getting Dave Seamans track 'Justified Replacement of Lulu' remixed for later in the year release… but all hush hush about that, in fact I probably shouldn't have told you that haha 😀
 Thanks for the brilliant interview Steve Parry. All the best to you mate