We grab some time with scene veteran and all round good guy Michel De Hey.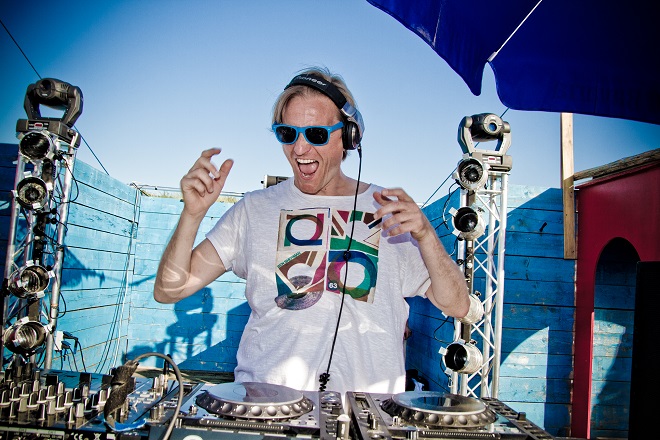 Michel De Hey, thanks for joining us!  So as in all stories, we must start at the beginning, and I'd like to begin by asking you how you got into DJing and producing?  The year you started your career was 1986, which to give our readers an impression of how long your history in dance music has spanned, was actually the year I was born!  What was going on in music at that time that drew you into the underground?
I started out playing everything from funk, disco, hip-hop, r&b… I was also busy with mix and scratch competitions, and became 2nd best of Holland 3 times in a row. So in those days, I was spinning and scratching all day and being an annoying customer in all records shops I visited weekly! My main goal in life was to get a job as a resident DJ for one day in the week in a club near my hometown. I was also studying in those days, but never finished it. I promised myself I could continue my studies when I get old… So it all really happened for me when I moved to Rotterdam in the early 90's. There I got my first real residency and started to release my first records for EC Records and Brave New World. The producing I started already with  some rave tunes for the now deceased Midtown Records, with a mixer, a sequencer and a small sampler – those were the days! 🙂
Was there actually a "scene" so to speak at that time period, or was it still before there was an established infrastructure and dance culture?  Would you say you saw the development of a scene from the ground up?  What was the mentality of the people at that time period in coming together to create the underground?
When you are in a scene you rarely have the idea that you are creating something or that you will open doors for others to come in later. You just play every weekend and try to develop things you believe in, with music making, throwing parties or releasing music. I saw it growing from a weekly adventure for a small group of people in certain clubs to this mega billion-euro industry it is now. I wish I knew back then what I know now! 🙂 But I was happy to be a part of this and I am equally as happy where I am now.
You've been known for founding, running, and working with a myriad of labels throughout your career – can you tell us what it was like to start your first label and when this was?  What about dance record labels back then, as far as how they operated and what they stood for, stands out as so different from the way labels operate today?  Do you approve of so many smaller labels being present in the industry now and releasing at the high paced volume they are currently outputting?
My first label was only 1 release and I cannot even remember the name of the label now? That was in 1991. A year later I started my second label that was a brave new world with dark deep techno music that I was very much into in those days. Then came EC Records where by now I have done 99 releases – I released some classic tunes on this so check Discogs to believe it. 🙂 Now the main focus is on hey! Records, as we do parties with this label and it is also connected to my radio show. To be honest, I was clueless in the beginning – we just pressed records, did not do any promo, only to a few friends. And we learned through experience. Nowadays, it is far easier, which makes the amount of music coming out way too big. To get your music known is way more difficult because there is so much output to contend with. The funny thing is that now people are starting to press up records because it is easier to get your music to the right people in this way and that is something I look upon with great pleasure.
Can you tell us a little about your favourite gig experiences?  Where are your favourite places to play and what about them are so special?  Do you have any new shows coming up in places you haven't played yet that you're excited about?
Well, the problem is with playing this long, there are too many nice gigs to mention! So many countries I've played have warm memories – Spain, Ibiza, Argentina, Japan, Hungary, Germany, China, Columbia… Most countries I've visited already, except for Australia – that one never fitted into my schedule for distance reasons. So many nice shows are coming up, but mostly in places I played before. Kiesgrubbe, Toffler Rotterdam , Boothstock Festival… Although we are doing a HEY! area @inthecloud Festival that will be the first time, and I'm going back to play Bali again in a new club there. This will happen in October, which for many reasons sounds promising to me… actually it's after ADE and I love the sun, so two very good reasons! 😉
Time for the studio:  what are your favourite pieces of gear and/or software to work with? 
My favourite is Fruity Loops, but I work with many other people and they are all into Ableton, so I use them both. But, in all honesty, I still prefer Fruity – easy to use and it sounds great!
Have you had gear you've used throughout your career that you still go to? 
In my old studio I had loads of gear, the whole old-skool Roland 101 / 303 / 505 / 727 / 808 / 909 / mks50 etc. But somewhere along the way I lost my 808 and 909, so the guy who has them… May you burn and rot in hell! Something always special is an old Syrinx synth I have, which always sounds cool.
What's the newest piece of gear you have and what are you excited to try? 
I'm not a huge gear junkie, I just bought some new KRK speakers that I'm very happy with, the less plug-ins I have the better it is, otherwise I keep on looking and looking and looking…
Can you give us a general idea of your current setup?
Very simple for Ableton Mac with different midi controllers for Ableton Korg and Keylab. For Fruityloops a PC with the same controllers, some KRK speakers for the studio and I am ready 🙂 And some plug-ins which I tend to fall back too, Mercury, Moog, FM 7 etc. In my old studio I have a box with hardware but still have not moved it to my new place.
Your latest original, Julienzzz, along with fellow producers Raukwost, is an absolute banger.  Particularly, I enjoyed the heavy bass that you chose to employ, which seems to be something you don't hear as often nowadays.  Can you tell us a bit about what the creative process was like for producing the track? 
First we did a different start for this, I brought in some samples and the track had more of a tribal feel to it. But after a few plays I felt it was not there yet, so we played around a bit and being influenced by rave throughout my career, I wanted to do something with a rave bass coming out of nowhere. It fitted the track like a glove and from my first test with an audience I knew it was something special and the amount of track IDs I had on this one made me feel sure, we had a winner!
What kind of philosophy do you approach when writing music nowadays, and has this always been with you or has your ideology about producing changed over the course of your career?
My philosophy has always been simple, I just want to make tracks that you want to dance to, or tracks that I would like to hear on the floor while I'm dancing. Although I did some other things in the past months I keep going back to making dancefloor stuff. However when I get old I will make music to lounge to, or I will start playing my guitar again!
Getting a track signed to Bedrock can get no better for a producer. What was it like working with them on a label level, and what approach did you take when pitching them the track? 
I have met John on many occasions in the past and I knew he was playing a lot of my productions. With this one, I felt straight away he could play this, but to my surprise a day after sending it they wanted it for a release. I always wanted to do something for Bedrock, so no complaints 🙂
Do you have any advice for current producers about submitting new music to labels in 2014?  Alternatively, anything a young producer or artist should NEVER do?  Is there a good way they can submit music to you currently as well?
Well, instead of sending 10 tracks, send the best 2 you have. I'm more eager to listen to 2 tracks instead of 10, personally. Also, make sure your music really fits the label you are sending it to and always use Soundcloud links so I do not need to download stuff and listen to it straight away. Sending links to me is easy info@micheldehey.com
Are there any other new releases or projects on the horizon?  Any secrets or perhaps unannounced new work you'd like to share with us currently?
I'm working on a new project with Rauwkost and also with Mulder whom I did a release with for Defected. I'm also trying to start working with a new favourite producer of mine called Daniel Trim, from Barcelona, and working out some ideas for a few tracks with lyrics… As long as I don't sing them it will be ok 🙂
Michel de Hey & Rauwkost – Julienzzz / Gibsome (featuring remixes by Ramon Tapia along with Paul C & Paolo Martini) is released this week on Bedrock.  Click here to read our review. 
Connect with Michel de Hey: www.facebook.com/micheldeheyofficial / www.souncloud.com/michel-de-hey