Today we have the honour of catching up with progressive scene legend, Pole Folder and find out what he's up to these days.
How did you get started as a producer and DJ, and who were your inspirations at that point in your career? 
I started as a producer mid of the 90's. For years I've been doing music, playing in symphonic orchestra, jazz combos, later in rock bands. I bought my first workstation in 1992, then I bought an Atari, these tools gave me the opportunity to create my own pieces of music and to present it to some labels. In 1999 I signed with Sony Music and in 2000 with Bedrock records. I was not a DJ at that time but the success of the first releases on Bedrock generated demands of gigs and to answer this I dived on the use of turntables. Was a tough job first but I always enjoyed it so it gave me the faith to continue and constantly learn on getting better. When I really started my career end of the 90's my influences were huge, going from Depeche Mode to Faith No More, but also combined with the sounds I was listening every weekends and sometimes more on the clubs in Belgium, as Boccacio, La Rocca, At The Villa, Extreme…
Can you tell us a bit about your current studio set up?
I write and produce most of my tracks in my own place today. Using Ableton on a macbook pro with a bunch of softwares, a few controllers and a small but quite efficient soundsystem plugged on a soundcard Babyface RME. When it's possible the tracks are finalized in bigger structures.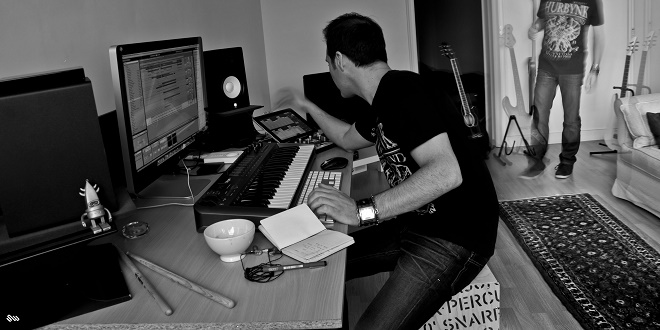 How has the process of making music changed since you first got going?
I used to have a big studio with a quite a lot of hardware till 2010. Today the fact that I'm mainly digital is not a big issue but I miss some external synths and fx units. A few purchases are on my list for 2014. I used also to work with an engineer for years, Alain Bultot, but a new job and two kids lead a bit his life now. So I mix my tracks myself. Hard job but I like it.
Your breakthrough came with the now classic 'Apollo Vibes' on Bedrock in 2001, with your friend and regular partner in crime CP. How did that track end up in Digweed's hands, and did you have any sense of the reaction it was going to get when you were working on it?
Cédric [CP] used to go every months to the Bedrock parties every month in London at that time.When we finished a few tracks including Apollo Vibes, he took it on his next trip and gave it to John at the Heaven Club. The chances to sign on Bedrock were pretty thin in our mind when we did it but surprisly John signed all the tracks. We knew that Bedrock had a powerful influence on the electronic scene but we've been very surprised by the worldwide exposure.
http://youtu.be/4weDH2IQemY
It's been nearly a decade since your very well received 'Zero Gold' album on Bedrock. Have you got any plans for a follow up?
Indeed. But I became superstitious a bit on talking of projects so I'll stay silent on what's going on. But I'm working on something to answer the question.
You've managed to sustain a really distinctive sound throughout your body of work, particularly in the kinds of melodies you write; for example, despite differences and despite their being recorded many years apart, it's not hard to recognize the same hand in both 'Babylon Days' and 'Mad Love'. Is that sense of unity and continuity that runs through much of your work something you've fostered deliberately, or has it been more organic?
Well I take this as a nice compliment. It's kind of a goal for every producer, I guess, to have a sound signature. But it's a tough question to try to see where this is coming from. The styles and genres come and go, specially in electronic music, and even if I'm always interested by the new sound and technologies, the fact that most of the tracks tell a story, I guess they are deeply connected to something in me which doesn't take in consideration of what could be the coolest sound of the moment but in opposite to take the inspiration and source of process in my influences and music background and at the end to meet my own creation desires.
There's a real sense of melancholy to tracks like 'Motel' and 'Dimension Missing'. Where do you draw your inspiration from when writing music – where do these haunting, beautiful melodies come from?
Life is the key. I get from it usually enough inspirations or initial track ideas. There is always a personal story behind every tracks but the cool thing about instrumentals is the fact that the listener has all the freedom to appropriate the track and to have his own perception.
Do you have a personal favourite amongst the tracks you've written and produced over the years?
I'm deeply connected of course to my album Zero Gold on Bedrock but I like the recent work on my label Reworck as 'The Soulful Dawn', 'Mad Love', 'Motel', 'Minor Theory' … Some of the last remixes I did have also a secure place on my live sets.
Which record by another producer do you wish you'd written, and why?
Tough question. I love a lot of tracks out there, but I'm not sure I miss the fact that I didn't write them. 🙂 I wished maybe to work in studio with some guys like Telefon Tel Aviv, their track 'The Birds' is one of my fav ones.
You've run a few record labels over the past few years, and Reworck seems to be doing really well at the moment. Can you tell us a bit about why you set up the label, and what it's got in store for us in 2014?
A label is a nice spot to show your sound and your new productions. It's also a secure place where you can release anything you want. The team at Reworck is a small one but the job is on a nice way. Several tracks were charted and we were even the release of the month on DJ Mag Germany with Holbrook and SkyKeeper. For 2014 we have a new release of Peet and Millie Gaum, a new Pole Folder EP, and some collaborations in process. So the calendar is nicely filled till the end of the summer.
You've recently completed a string of amazing remixes for Kunia, Sound Avenue, Clinique, CHANGE AUDIO, Reworck and it sounds like there's another remix of Ferdy for Proton on the way. How do you decide which remix projects to take on? What else do you have lined up that we can look forward to?
http://youtu.be/f9SKFPaeE1A
I kind of answer positively any requests, the key is the agenda. The last tracks I remixed were a nice time in studio and I play them on a constant basis on my sets. But for the next months I will only accept a few remixes as I must focus on some urgent projects.
What else can expect from Pole Folder over the next year and beyond?
An EP pretty soon, a release with CP on Sudbeat, a couple of remixes on the next weeks, a release on Electronical Reeds with some surprising remixes, a mix compilation on a very good label (but I can't say too much) … and hopefully a LP in a future not too far.
Which artists and labels are standing out for you at the moment? 
Innervisions is doing a great job but there are so many good stuffs, it's hard to chose. I like the sounds of guys like Zusammenklang, Petar Dundov, Fairmont, Prins Thomas, Deetron… of course the guys I sign on my label as Marquez Ill, Sven Jaeger, … My choices are huge so the list would take the whole page I guess. As long as I like the track, I'll buy it. It can be techno, tech house, electronica … Only the quality of the sound counts for me.
It's clear that you don't just listen to house and techno – for example, your love of Nine Inch Nails is well documented. What else do you enjoy listening to? Do you think that listening to stuff quite different to the sounds you yourself make influences your own output?
My influences and taste in music in general are large it's true. I guess it's coming from my background as I started learning classical music before I ended up with rock guitars and later synths. So I also like to listen rock, pop, classic, original soundtracks … I guess these influences go into my music. I wish I could have more time to use more guitars, bass guitar and drums on my own productions, going closer to the rock side. But I hope I'll manage it some day.
What do enjoy doing when you're not making or playing music?
I always like to go out for a drink with friends. Watch a nice movie (even if it's not as much as I would like to), of course to go to a concert or to a club with a cool line up. I'm easy to get along with.
Do you think the music scene is in a healthy place right now?
I'm not sure. I hope it is … and if it's not I don't focus too much on the bad sides anymore. I learned it can be kind of a waste of time. I do what I want today, and that's a great source of pleasure.