Hernan Cattaneo took the industry by surprise when he announced his CONNECTED show last week on Facebook. Just like you, I was eager to know more…
Hi Hernan, I saw your post about CONNECTED. Can you tell us all about the concept? When did you come up with the idea and how long have you been planning the show?
Hernan Cattaneo: How long I've been thinking about this? For ages I guess, but always on a "wishful thinking" way. I've been talking with Oliverio, Baunder on other musicians in the studio many times and always been wondering about how it would be doing something like this.
But normally you dont get such a chance for different reasons: its a very long work and its extremely expensive. All our DJ agendas are generally super full and also you must convince a lot of heads from outside our field to give an OK.
But one day, the executive producer Cruz Pereyra, called me and told me he managed to get some interest at the Teatro Colon to make an electronic show. So we started seriously looking into it, and trying to find different ways to "connect" our vision of the electronic music with the traditional symphonic world and that's where the name of the project come from.
You've played some amazing venues in your time but Teatro Colon must take the crown. Do you feel this could become one of the proudest moments of your entire career?
Hernan Cattaneo: Agree, over the years i had the pleasure to play at amazing places like The Liverpool Cathedral ,The St George´s Hall, The Hollywood Bowl, The Redrocks Amphiteathre, and many more great ones, but this is really something else. Not only is one of the top opera houses in the world but its also in our hometown, so can't be more special.
I mean, this venue is the most revered place to play in Argentina, like The Scala in Milano or The Royal Opera House in London. This is a really big opportunity for all of us.
It will be for sure a very big and proud moment for all involved and specially for electronic music in the country, since definitely nothing close to this ever happened before.
I guess the question on everyone's minds is what music will you performing? 
Hernan Cattaneo: The show is based around electronic classics plus music that influenced me over the years. It will also feature some of our tracks and stuff from current players that I love as well, all performed by a 50 piece orchestra with guest musicians, and singers plus Oliverio, Baunder and myself on the electronics.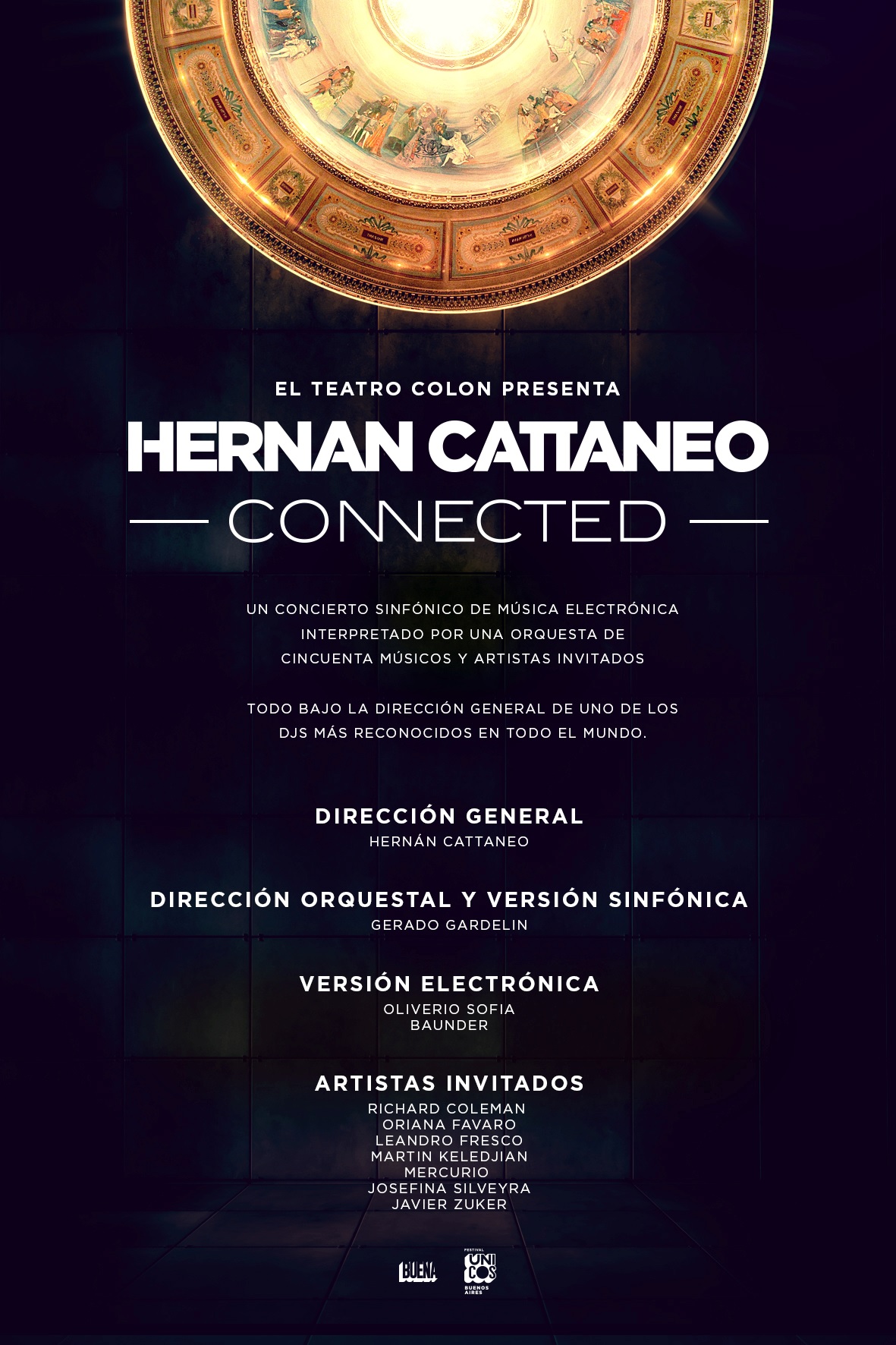 How will you be performing? 
Hernan Cattaneo: I am a DJ, not a musician, so I don't play instruments, however I will not be playing records here, because this is not a dj set. I will be controlling the main sound console, plus working with samples and fx that are part of the soundtrack, the more subtle stuff.
In this team, I am the coach, not a player. We will have some of the best "players" in the country on stage that night.
How long have you being practising with the orchestra and how much of a challenge has it been for everyone to get up to standard? 
Hernan Cattaneo: After we got the ok for the show, I spent some time thinking about the music we should feature. Since then been working with Gerardo Gardelin, the musical director and symphonic arranger along my usual partners Oliverio and Baunder to re-create new versions of this songs connecting the sounds of both our worlds to make them ready for live performance.
We been working for 8 months on all arrangements and we are still making changes and additions – The next four months we all will work hard on rehearsals for the final shows and a million small details to take into account.
I watched over the years different shows of this kind, like Jeff Mills, Pete Tong and of course Sasha lately. I think each one is great for different reasons and we hope ours will be too. We will keep beats and drums very low and let the beauty of the symphonic arrangements connect with electronic textures, samples and FX.
And as i said, we will keep control of the electronic bits and the big orchestra will perform alongside guests: Richard Coleman, Oriana Favaro, Leandro Fresco, Martin Keledjian, Mercurio,Josefina Silveya and Javier Zuker.
How many shows will you be performing? Just seems an immense amount of work for one show. Are there options to do more nights?
Hernan Cattaneo: The Teatro Colon is all year round booked with the biggest Opera and Ballet companies from all over the world so this is a one day and very rare opportunity.
And yes a crazy amount of work for one day, but we are all true music lovers and as i said before, this is great opportunity to bring electronic music to a very special place and a wider audience.
How can fans purchase tickets?
Hernan Cattaneo: Going on sale late early december