Matt Black catches up Terminal resident Scotty A to find out how he became such a respected name on the global scene.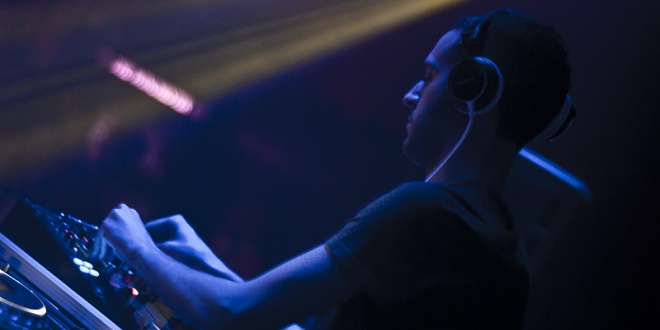 Hi Scott, Your productions have been causing quite a stir for some time now, how did it all start for you?
I've been djing since i was a teenager and naturally production is the next step. It took me sometime to make any progress and have only been writing music seriously for around 4 years. I think its fair to say I've come a long way in a short space of time, generally driven by my passion for the music and determination to succeed. More thanks is owed to the likes of Hernan Cattaneo, who helped put me on a more international stage with his continual support, this has made a big difference.
You're a guest resident for a night called Terminal in Bournemouth, how did that come about?
I first played for Terminal back in May 2012 and have been going back regularly ever since…… so i must have done something right. The night is run by the very talented L A Williams, certainly a star in the making and he has really helped shape the scene down there. Terminal has really grown since i first started playing for them & I have had the privilege of building things up for Nick Muir & Oliver Lieb. Its a really fun crowd and has a freshness to it that is hard to find in other parts of the U.K. I always look forward to playing down there, as do my friends who're always up for the road trip!
We noticed Golden Wings Music Argentina have rebooked you for a new tour at the end of May
Yes, they arranged a small tour for me last August which was truly amazing, so i'm really glad to be going back again. I played in Mar Del Plata, Mendoza and of course Buenos Aires. There was unique quality to each of the parties I played, but for me personally, the party in Buenos Aires was very special. Its still a new concept to me to travel to the other side of the world and headline a party that has sold out. I felt nervous about but that pressure helped me perform better. So i'm looking forward to doing it all again!!!
A lot of DJ's who have been to Argentina reckon its one of the best places to play, why do you think the progressive sound is so popular over there?
Firstly in Argentina they love to dance! But What made that party so special in Buenos Aires was the connection with the crowd. You can feel they're just as addicted to the music as I am. You really feel like they care about what you're doing and demand your best performance. I think this applies to other genres too, they're passionate and friendly people, and it really shows.
You have played for both the recent Bedrock birthday events, tell us what that was like.
Both were excellent, i always imagined at these big London events, that the back rooms are a little insignificant. At Bedrock that is not the case, even if a legend like John Digweed is playing a marathon set in the main room. I've played to a full room for hosts; Room2move and Lowbit Records at the Bedrock parties, both times I found the crowd are intelligent with the music and clearly knew who i was and what I'm about, so that was very refreshing to find. You could push the boundaries a little more and have fun with it!
What is it that makes your DJ sets so special, do you try to play a lot of your own material or is this something you would like to do more of in the future?
Hard for me to comment on how special they are, but I have always prided my style on track selection. I spend hours every week hunting for music, the journey of discovery is never ending. There is nothing better than finding that gem of a track that perhaps has been over looked or forgotten, then making it your own in a set. My own work doesn't feature in my sets very often. There are a number of reasons for this, but mainly my sound is going through some changes and it doesn't always fit into to what i wish to do live. Rest assured im working very hard on changing that, slowly the two aspects will aline.
Moving onto your productions you have a very distinct sound, progressive but with real techy elements, who have been your biggest influences?
Hmmm, how long have you got? My influences have changed vastly over time, but in more recent years, I developed a keen interest in ambient techno & cinematic soundscapes. Cliff Martinez (Traffic, Drive, Solaris) has been a big influence for me, as much as he has no direct link to house or techno, I feel there is a strong link in the properties his work shows. on a more obvious level, artists such as Simon Garcia, Dave DK, Patrice Baumel and Guy Gerber are a big influence for me right now.
What's in your studio right now, are you one of these people who produce out of the box or do you have some analogue gear too?
I must be brutally honest, my set up is very simple and i prefer it that way. Most of what you hear in my tracks is vst based, I'm big fan of Native Instrument's Massive & Camel Audio's Alchemy. Works for me, so see no need to change, for now anyway.
You have had a few releases on Proton, how did you get signed to them and what are they like to work with?
My relationship with Proton is something which has really grown over the last few years. Started with an original and a remix for their more melodic imprint 'Particles' , which was then followed by 3 ep's over the last year or so on there flag ship label, Proton Music. They're super professional & very easy to work with. I certainly feel I've grown as an artist and moved to the next level as a result of working with them.
You recently remixed Oliver Lieb, what was it like to remix such a legendary figure?
As you can imagine, i was thrilled to receive such an opportunity and naturally a little nervous. my remix is very much an interpretation of the original and offers a different perspective on it. I was especially anxious to see what people would make of it, so it came as a great comfort to learn that it received solid support and even the man him self liked it.
Have you got any other releases lined up that you would like to tell us about?
Yes very excited about an upcoming release i have on Tanzbar Musik (Germany). I wont say too much as I don't want to spoil the surprise, but there will be two originals from myself and a stunning remix from the very talented Tobsen Graale. Expect something unique.
Have also just finished a remix for Paul Hazendonk at Manual.  Very pleased to be given this opportunity, as Manual is a label I've followed for many years and aspired to seeing my name on there. Look forward to seeing what people make of my remix.
Is there anywhere else in the world you would like to play?  What would be your dream gig?
Naturally, there are so many places in the world i dream of playing in. Yalta (Sofia, Bulgaria), Stereo (Montreal, Canada) or Vessel (San Fransisco), instantly spring to mind.  Also it's very sad to learn that Trouw in Amsterdam is closing, because would have loved to have played there!  At the moment though, I'm really looking forward to heading back to Argentina and rocking it. Can't wait!!!
Words by Matt Black