With DanSonic releasing his debut album 'Dreamers' on Artificial Acoustical Ambience Records we catch up with him for the latest episode of 12 Questions.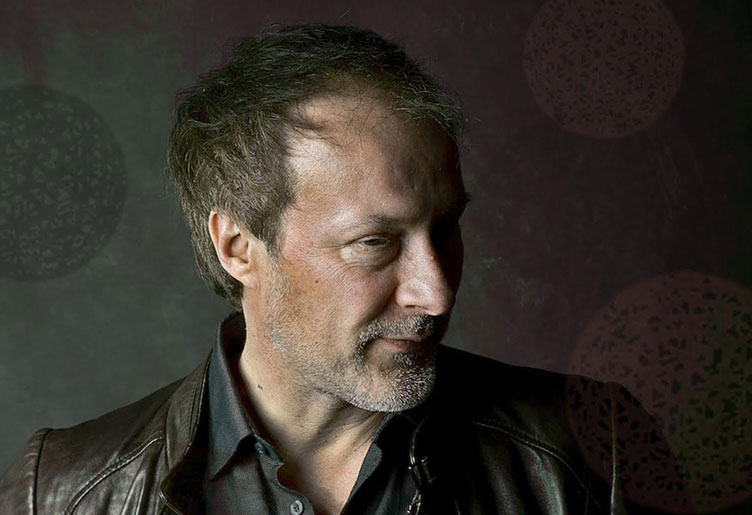 1. How old are you, where are you living and how long have you been producing and Djing?
I'm about the same age as the Minimoog Synthesizer and live near Zürich in Switzerland. I've been making music in one form or another since I was a child. I played in some local bands as a singer and keyboard player. I was also a DJ in a small local disco and produced a lot of tunes for my personal use before discovering electronic dance music in the 80's. My public appearance with a release was when I had been invited by my good friend F-Act to make a remix for his tune "Blizzard", which was released on the Limeroads label owned by Loco-Volver and my first public appearance as a DJ was when I was invited by MentalX for a live DJ-set on his radio show on Swiss radio station Virus.
2. Where do your musical roots lie, what are your first memories of electronic music and when did you know you wanted to pursue it seriously? Are there any particular productions or artists from the past that really made you think to yourself 'this is what I want to do."
Well this is a very difficult question to answer since music in general had a huge impact on me and I also have numerous memories linked to electronic music…
I had the luck to have a bunch of friends who had loads of records and some of the first impressions of electronic music were from artists such as Klaus Schulze, Tangerine Dream, Isao Tomita, Pink Floyd, Yes, Jean Michel Jarre, Vangelis, Kraftwerk, The Art Of Noise, Zapp, Herbie Hancock, Weather Report, Depeche Mode, OMD, Bruno Spoerri just to name a few. And in the late 80's and early 90's it really hit me as I loved to go out dancing at parties with DJ-sets and live appearances of The KLF, Moby, Frankie Knuckles, Tony Humphries, David Morales, MaW, Gianni Parini, DJaimin, Oliver Stumm, Dee Lite, The Stereo MCs and many more.
I have kind of always dreamt of making music, but it was more dreaming and investing a lot of time for fun than concentrating on a career with the focus to succeed.
3. How difficult was learning to produce for you in the beginning? Did you take any Audio Engi-neering programs or production courses to help you out or are you pretty much self taught? And did anyone give any advice early on that really helped?
The first computer program I had, was Steinberg's 24 Track. I then changed to Creator and stayed with Emagic followed by Apple Logic up to the present day. I am pretty much self taught and learned to use the programs by experimenting and with the help of the manuals. I never have been an expert in detail on these programs, but always enough to play around with it.
About fifteen years ago I took the chance to work as a professional sound engineer on commercials for TV, Radio and cinema, and there I worked with ProTools for many years, now again it's with Logic Pro X. As a sound engineer I am mainly focused on voice recording and editing, sound design and mix and mastering.
4. What parts of the production process do you find the most difficult and what comes easiest for you? When you do hit a creative block what helps you through it?
The most difficult for me, is to find the final sound and arrangement. This really takes a lot of time, not only in the meaning of work, but more in a way of letting the tunes ripen like a good wine. I lay them aside and rediscover them from time to time. The new album consists of many tunes that have their origin some years ago.
It has always been easy and like a gift to find sketches and ideas of sound and rhythms. As soon as I start with a new tune and use some samples or sounds or beats, they work like a seed or a catalyst and a new process, another journey begins and a new tune just sort of happens.
Since they are my own tunes I am not in a production process, where I have to deliver on time to a deadline, so I do have the luxury to let a creative block pass and become history. When doing remixes I have been lucky enough not to get into trouble…
5. What's a normal day like for you? Do you have a job outside of electronic music? And what do you like to do when you're not working on music?
Well as mentioned before I work as a sound engineer but only part time and I am also a sommelier and work as a part time wine salesman. I love good food and wine and spending time with my wife and with friends and also a good party once in a while.
6. Apart from electronic music what other genres do you listen to and who are your favourite artists outside of electronic? and do these genres or artists have a direct effect on your own productions?
I sometimes listen to pop music radio stations, but mainly to electronic music. Often I also really do enjoy silence or the absence of created sound.
I would say that it is not possible to let something not have an effect on you, at least this is my impression. On the other hand I am absolutely not able to take an impression and to reproduce it just like that or at all.
7. What was the first and last physical (CD, Vinyl, Cassette etc) piece of music you bought?
The first Vinyl I bought was "The Dark Side Of The Moon" by Pink Floyd and I guess one of the last CDs was one by Global Underground or Hotel Costes some years ago.Today I buy a lot of new tunes through Beatport.
8. Tell us something about yourself that might surprise people?
I have been a vegetarian for more than 25 years. I studied electronic engineering but quit while doing my masters because I had a deep personal crisis.
9. Which producers in your opinion get consistently overlooked?
Well, when I think of the thousands of people producing music, then a lot get overlooked. One reason for this is, I think, that the market and the consumer focus on a "few" names and the other is, it is simply not possible to realise and be aware of all the sound being created. The feeling of being overlooked is actually avoidable nowadays as one has the ability to be able to reach a lot of people through the new media, but it still takes a lot of time, good connections and luck to succeed.
To name some friends, I would say F-Act is a very interesting and talented producer, as well as Loco-Volver, KellAr and Tim Robert and then for sure Seb Dhajje, who really does some fascinating and dreamy stuff.
10. Which producers consistently inspire you? And where else does your inspiration come from?
A lot of things in life are inspiring to me. Inspiration is a feeling, a mindset, a state I am in. I have the impression that I am not inspired and then start making music, but that I start making music and then I am inspired through the sounds that come to me…
There are really so many producers who, to my personal taste, are always top notch. It is really hard to choose a few to name here, but let's say : Sasha, Nick Warren, Ewan Rill, Dousk, Quivver, Monika Kruse, Facundo Mohrr, Oliver Lieb, Martin Eyerer, Guy J and many, many more.
11. There are countless producers out there trying to find their way and create their own unique sound, what advice do you have for them?
Have fun, be curious, be active and try to connect to other musicians and DJs.
12. If the final DJ/live set of your career was next week what would your last track be?
No chance to answer this question. This is not the way I am thinking right now. There are so many tunes that are beautiful. And when doing a DJ set a lot is improvisation, it's like a journey, it's an expression of the momentary mood and feelings and it's part of the adventure not to know where it will lead me…
'Dreamers' is out now on Artificial Acoustical Ambience Records, you can purchase the release: here