We catch up with Spanish producer, performer, and label-manager Integral Bread, finding out what he's been up to and his plans for Univack, the label he runs with Elio Kr, as it hits its five year milestone. There's an exclusive live set to check out and a Spanish version of the interview below too!
1. I've got to ask: why 'Integral Bread? Is it really just that you love eating bread?
I do love eating bread 😀
Integral Bread was the name of the first track I finished, and I decided to use it also as my artistic name. Back then I was 16 or 17 years old (I'm 36 now) and my family used to have a bakery business. My friends used to call me "pan", bread in Spanish. "Integral" is how we call whole bread.
2. You've been involved with electronic music for around two decades now. How did you get started, and what have been some of the highlights along the way to where you are now?
I've been really lucky to have contact with music since I was little, thanks to my mother's family. My grandfather was a great Spanish guitar player and music teacher, and at home there was always a piano or a guitar to play and experiment with. When I started to listen to electronic music, what fascinated me most was the idea of creating, rather than mixing. I started to compose using Trackers, until I finally got to buy my first Groove Box. For my first performances I only used an MC303.
The period I was part of the duo Bread and Butter, together with Joaquín Gemio, helped me to grow as an artist. We learnt a lot together, both about producing and about live performing. We worked with different styles, but we got to be known specially in the Spanish Break scene. After Bread and Butter was dissolved, I refocused on my solo career, but you can feel its influence on my new productions, particularly through the different styles we worked with (Electro old school, Break, DnB, Techno, House, Progressive…)
3. Do you have any formal training in music or in production, or have you picked things up as you've gone along?
I received basic music theory, piano and guitar lessons as a kid. Regarding electronic music, there was no training whatsoever back then – not even an Internet access!
I've learnt almost everything I know on my own, partly by reading specialized books and magazines, but mostly by practicing and experimenting. It is a great advantage that nowadays there is a huge amount of professional courses, documentation and information on the Internet. For anyone willing to learn and create, it is very positive to have it all available.
4. How has your sound or style changed since you started making music?
I started producing Electro and Break tracks. After, I began to experiment with sounds closer to techno music, always trying to keep a melodic and harmonic content and an atemporal character.
I've always loved mental, hypnotic, evoking sounds that do not lose their functionality on the dance floor. 
I'm sure that having worked with many different styles has helped me develop my own, which is hard to define sometimes. Many mates tell me that I have an "Integral Bread" style. I like to think that my music sounds different from the ordinary, and that the audience feels it too.
5. The last couple of years have seen some huge releases from you, from the likes of Lowbit and FutureForm. What have you got lined up for 2015?
2015 has started in the best possible way, I feel very inspired and comfortable working right now. I'm composing faster than I normally do and I'm sure that I will edit a lot of works this year.
My next EP for Soundness Music will soon be released, as well as remixes for labels such as Suffused Music and Ultradrums, but most of my productions will continue to be with my label, Univack.
6. You're known not just for your production and label work, but also for your live act – first as part of Bread and Butter, and more recently as a solo act.What's your live set up like?
My current setup is very basic -at least much more than it was years ago, when everything was hardware. I've tried to minimize the problems of using a very big Rider, and get advantage of the potential and easiness of modern technology.
For my live performances I use a Mac book pro, Akai APC40, Novation SL25, and audio FocusRite.
In my home Studio, I sequence and mix with Ableton Live, my keyboards and controllers. I like software synths very much (Sylenth, Absynth, Rob Papen, Omnisphere…)
7. What's the goal behind the live shows – what does it let you do, as opposed to a more traditional DJ setup?
Unlike other musicians, at the beginning, what fascinated me was the idea of composing the music DJs used, rather than being a DJ myself. I've never mixed, truly – I've always composed and performed my music live, with the very same machines I used at home.
I believe that performing live is the best way of expressing yourself artistically in front of an audience, and I would love to see more lives in electronic events -or at least to see more DJs performing their own music.
I try my live show to have an artistic component, but being also effective on the dance floor, like a traditional DJ set is. I love performing; it's one of the biggest rewards you get for spending so many long hours in the studio. Seeing with your own eyes what people feel with your music is really beautiful. 
With my live show, I want people to dance and enjoy, with the feeling of being listening to something "different".
8. Univack, the label you run with Elio Kr, is coming up on its 5-year anniversary. How did you get involved with Elio, and how did the label get started?
Actually, at the beginning there were four of us: Dave Alna, Urverk, Elio and me. We were friends and producers, and our main goal was to manage and release our works independently.
After two years, Elio and I began taking charge of it. We wanted to focus on the more melodic, deep and progressive spectre of Techno and Tech House. The two first years were very useful to detect mistakes and be able to adapt to the music industry. We work hard for it. It is a daily effort that takes up a lot of our time -time that we could be using for composing, but creating positive bonds with other artists it's definitely worth it.
9. Labels tend to come and go these days – why do you think Univack has been so enduring?
We know it is hard to stand out nowadays, and we think that the only real and respectable way to do it is by working hard with humility and patience. We try to detect mistakes and solve them, in order to keep growing and evolving. Also, good treatment to the artists we work with is a key factor. We try to do everything in a professional, transparent, and independent way, for it to be reflected on the quality of our releases. 
We are committed to the independence of our label. We are very proud of not depending on intermediaries: we work directly with music stores such as Beatport and we have our own promotion system. This is much cheaper, gives us freedom and allows us to be more transparent and to invest in our artists. 
10. What are your plans for the label moving forward?
Our main purpose is to produce better music every time. We want to work with the best musicians, not only with acclaimed artists and well known producers, but also, and particularly, with great composers who are not known yet.
We still have a lot to do in Univack. We are constantly thinking of new ideas and we are always trying to get new tools to improve our label. 
11. Who are the producers that we should be looking out for this year that we might not know about yet?
There are so many great composers all over the world who are not known yet that it is hard to pick up just a few.
I love what artists such as David Granha, Ioan Gamboa, Soulwerk, Lefrenk, Cumiks, Oscar Vazquez, Sergio Mateo, or Elio Kr are doing at the moment. They are all Spanish, and some of them well known to you. 
I'm also a big fan of the very personal style of musicians such as Oovation, MUUI, or Erich Lesovsky.
There are others, maybe less known to you because they work with different styles, that I like very much, such as Lost Twin, Fabel, Gameboyz, James Rod, Sergio García (Trømmel) or Anu Manisa.
12. Do you think that the progressive/house/techno scene is in a healthy place right now? What are some of the most serious challenges faced by DJs, producers, and labels, and what can we do to meet them?
Yes, I think you can find quality music within those styles right now. Personally, I prefer those producers and labels that commit themselves to evolve and to propose new ideas, but there are others, more "traditional", not so innovative that are still releasing high quality works.
As for events and parties, at least in Spain, the styles I like are very "underground" and do not receive the support that they deserve. There are many producers in my country who are really good and well known internationally but that do not get to work often.
13. Finally, what else can we look forward to from Integral Bread in the remainder of 2015?
The only thing I can say is that this year I feel more motivated and inspired than ever. This year I hope to keep learning and growing as an artist and that more and more people will be able to enjoy my music.
Thanks a lot for taking the time to talk to us!
Thanks a lot to Aidan and to the Change Underground team. Thanks to everyone for having the patience of reading the whole interview! And of course thanks to my fans, mates, family and friends.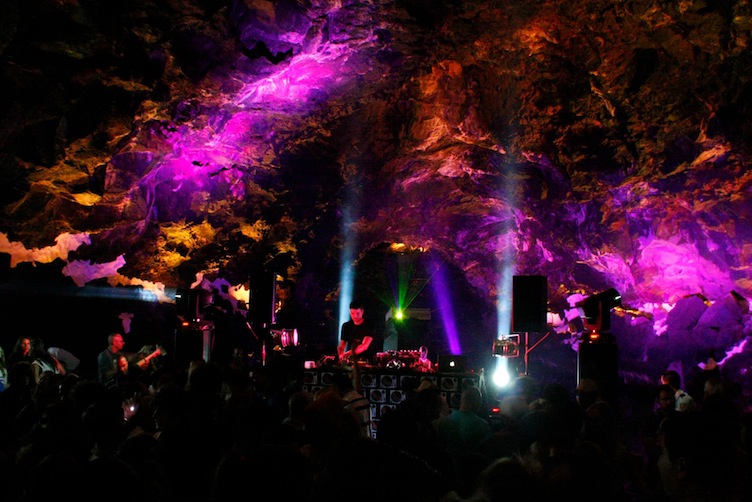 1. Te tengo que preguntar: ¿Por qué "Integral Bread"? ¿Realmente es sólo porque te gusta comer pan?
Me encanta comer pan. 😀
Integral Bread fue el nombre que puse al primer track que terminé, y decidí también utilizarlo como nombre artístico. Yo tenía unos 16 o 17 años (ahora tengo 36), y por aquel entonces mi familia tenía una panadería. Mis amigos me llamaban cariñosamente "PAN".
2. Has estado involucrado con la música electrónica alrededor de 20 años. ¿Cómo fueron tus comienzos, y cuáles han sido algunos de los aspectos más destacados en este camino hasta hoy?
He tenido la gran suerte de tener mucho contacto con la música desde pequeño, sobre todo gracias a mi familia materna. Mi abuelo fue un gran guitarrista y maestro de guitarra flamenca, y en casa siempre había algún piano o guitarra española con la que poder jugar y experimentar. Cuando empecé a escuchar música electrónica, lo que más me apasionaba era la idea de crear, más que la de pinchar (mezclar). Comencé a componer utilizando Trackers, hasta que por fin pude comprarme mi primera Groove Box. Mis primeros Lives fueron exclusivamente con una MC303. 
Me ayudó muchísimo la etapa en la que formé el grupo Bread and Butter junto a Joaquín Gemio. Aprendimos mucho juntos, tanto en la producción como en nuestras actuaciones en vivo. Por aquel entonces trabajábamos con varios estilos, pero sobre todo nos dimos a conocer dentro de la escena Break de nuestro país.
Después de unos años, tras disolverse Bread & Butter, volví a centrarme en mi trayectoria en solitario. En mis actuales producciones se siguen intuyendo vestigios de mi anterior etapa, y de todos los estilos musicales en los que hemos trabajado (Electro old school, Break, DnB, Techno, House, Progressive…)
3. ¿Has tenido algún tipo de formación musical reglada, o has tenido una formación autodidacta?
De pequeño recibí algunas clases solfeo, piano y guitarra, pero fueron muy básicas. Respecto al ámbito de la electrónica, por aquel entonces no había acceso a cursos. Ni siquiera tenía conexión a internet.
Casi todo lo he ido aprendiendo de forma autodidacta, leyendo libros y revistas temáticas, pero sobre todo practicando y experimentando. Una ventaja que existe hoy en día es que tenemos a nuestro alcance muchos cursos profesionales, y mucha documentación e información en Internet. Es muy positivo tener toda esa oferta disponible para cualquier persona que tenga ganas de crear y aprender.
4. ¿Cómo ha ido evolucionando tu sonido desde que empezaste a crear música?
Comencé produciendo temas de Electro y Break. Después fui experimentando con sonidos más cercanos al techno, siempre intentando que mi música tuviese un contenido melódico y armónico, y un carácter atemporal.
Siempre me gustaros los sonidos hipnóticos, mentales, aludiendo siempre al poder evocador de la música, pero que no perdiesen su carácter más funcional dentro de la pista de baile.
Estoy seguro que el haber trabajado con muchos géneros, me ha ayudado a definir un estilo algo personal, que a veces es difícil de definir. Muchos compañeros dicen que mi estilo es "Integral Bread". Me gusta pensar que mi música suena algo diferente a lo habitual, y que el público también percibe eso.
5. En los últimos años, has publicado algunos importantes lanzamientos en sellos como Lowbit, FutureForm, o Univack. ¿Qué nos tienes preparado para este 2015?
El 2015 ha comendado de la mejor manera posible. Ahora mismo me siento muy inspirado y cómodo trabajando. Estoy componiendo música a un ritmo más alto del habitual, y sin duda estoy seguro de que este año voy a editar muchos trabajos.
En breve saldrá a la venta mi próximo EP para Soundness music. Además de remezclas en sellos como Suffused Music y Ultradrums entre otros. Pero la mayoría de mis producciones seguirán saliendo en mi sello Univack.
6. Eres conocido no sólo por tus producciones y tu trabajo en tu sello, sino también por tus actuaciones en directo, hace unos años en la formación Bread and Butter ,y más recientemente en solitario. ¿Cuál es tu configuración para tus directos?
Mi configuración actual es muy básica, al menos mucho más de la que utilizaba hace varios años, cuando todo mi equipo era Hardware. Durante estos años he ido minimizando los problemas físicos que conlleva utilizar un Rider muy grande. Ahora prefiero aprovechar el potencial y facilidad que ofrece la tecnología actual.
Actualmente para mis directos utilizo un Mac Book Pro, Akai APC40, Novation SL25, y audio FocusRite.
En mi home-studio, secuencio y mezclo con Ableton Live y mis teclados y controladoras. Me gustan mucho trabajar con sintes software mis favoritos son (Sylenth, Absytnh, algunos de Rob Papen, Omnisphere…).
7. ¿Por qué actúas en directo? ¿Qué te permite hacer diferente a un DJ set tradicional?
A diferencia de algunos compañeros de mi época, a mí no me fascinaba tanto la idea de mezclar discos, sino la de componer la música que esos djs utilizaban. En realidad nunca he mezclado discos. Siempre me he dedicado a componer y a mostrar mi música en directo, con las mismas máquinas que utilizaba en mi estudio.
Creo que es la mejor forma de expresarte artísticamente ante un público, y realmente me gustaría ver más LIVEs en los eventos de electrónica, o al menos DJs que toquen más sus propios temas.
Intento que mi LIVE tenga mi carácter artístico, pero que a la vez resulte eficaz en la pista, como un DJ set tradicional. Me encanta actuar, es uno de los grandes premios que recibes después de tantas horas invertidas en tu estudio. Comprobar en vivo lo que siente el público con tu propia música es algo realmente hermoso.
Mi recompensa es que al final de mis actuaciones, el público haya bailado, disfrutado, y tenga la sensación de haber escuchado algo "diferente".
8. Univack, el sello del que eres dueño junto con Elio Kr, acaba de cumplir 5 años. ¿Cómo te involucraste con Elio y como fueron los comienzo del sello?
Realmente Univack comenzó a andar con el esfuerzo y la ilusión de 4 amigos y productores (Dave Alna, Elio Kr, Urverk, y yo), bajo la simple idea de tener independencia sobre la gestión y el lanzamiento de nuestros trabajos musicales.
No fue hasta los 2 años siguientes, y por diversos motivos, cuando Elio y yo tomamos las riendas del sello, enfocándolo hacia una línea más definida. Queríamos centrarnos en el espectro más melódico, profundo y progresivo del techno y tech House. Los dos primeros años del sello nos sirvió mucho para detectar errores que estábamos cometiendo, e intentamos adaptarnos a la industria actual de la manera más sana, profesional e independiente que podíamos.
Es mucho trabajo el que invertimos. Un esfuerzo diario, que nos quita tiempo que podríamos estar utilizando para componer, pero que a la vez nos regala muchas satisfacciones, como la de crear lazos positivos con otros artistas.
9. Los sellos actuales tienden a ir y venir en estos días.. ¿Por qué crees que Univack se está manteniendo tan fuerte?
Pensamos en el label como algo a largo plazo. Sabemos que es difícil destacar hoy en día entre tanta oferta, y que la única forma real y respetable de hacerlo es trabajando diariamente con mucha humildad, paciencia, detectando los errores que cometemos e intentando solucionarlos para seguir creciendo, y evolucionando dentro de una industria difícil y en constante cambio.
El buen trato a nuestros artistas es fundamental, así como intentar hacer todo de la manera más profesional, transparente, e independiente posible, para que esto se vea reflejado en la calidad de nuestros lanzamientos.
Apostamos muy fuerte por la independencia de nuestro sello. Nos sentimos muy orgullosos de poder decir que no dependemos de distribuidoras intermediarias a la hora de vender o promocionar nuestros lanzamientos. Trabajamos directamente con tiendas como Beatport, y de la misma forma tenemos nuestro propio sistema de promoción. El no depender de empresas intermediarias nos da mucha libertad, nos ocasiona menos gastos, y podemos ofrecer más transparencia y destinar más beneficios a nuestros artistas, en forma de royalties, entre otras importantes ventajas.
10. ¿Cuáles son vuestros planes para que Univack siga avanzando?
Nuestro propósito fundamental es contar cada vez con mejor música y artistas en nuestra familia. No sólo nombres consagrados, y productores bastante conocidos, sino sobre todo, de aquellos grandes compositores desconocidos y que a menudo son difíciles de detectar, pero que hacen un trabajo excepcional.
Cada vez cuidamos mejor cada lanzamiento, dedicando cada vez más tiempo a todos los aspectos, desde los primeros contactos con los artistas, como la promoción o distribución de los lanzamientos.
Tener la sensación de que nos queda mucho por conseguir en Univack, hace que estemos constantemente pensando en nuevas ideas y herramientas para perfeccionar todo lo referente al sello.
11. ¿Cuáles son los productores que quizás no conozcamos y deberíamos tener en cuenta en este año?
Sobre todo te puedo hablar de los más cercanos que tengo.
Me encanta el trabajo que realizan mis compañeros españoles, algunos ya bastante conocidos por vosotros. Nombres como David Granha, Ioan Gamboa, Soulwerk, Lefrenk, Cumiks, Oscar Vazquez, Sergio Mateo, Elio Kr.
Soy muy fan del estilo tan personal que tienen compañeros del sello, como Oovation, MUUI, o Erich Lesovsky.
Otros que quizás conozcáis menos, porque trabajan otros estilos, como: Lost Twin, Fabel, Gameboyz, James Rod, Sergio García (Trømmel), Anu Manisa…
Hoy en día hay tantos y tan grandes compositores, por todo el mundo, la mayoría de ellos desconocidos, que es difícil destacar sólo a unos pocos.
12. ¿Crees que la escena Progressive/House/Techno pasa por un buen momento? ¿Cuáles son los retos más serios a los que se enfrentan los DJs, productores y sellos y qué se puede hacer para conseguirlos?
Es difícil de calificar o definir la escena electrónica actual, sea cual sea el estilo, ya que que está en constante cambio.
A nivel musical creo hay una mucha calidad dentro de estos estilos. Personalmente prefiero mucho más a los productores y sellos que apuestan por una evolución, y que proponen ideas nuevas dentro de estos géneros. Pero también hay otros más "tradicionales", que no son tan innovadores, pero que siguen realizando trabajos de enorme calidad.
A nivel de eventos y fiestas, al menos en mi país (España), estos estilos son muy "underground", y no tienen el apoyo que en mi opinión deberían. Existen muchos productores de mi país que tienen una enorme calidad y que son conocidos internacionalmente, pero que no suelen tener actuaciones.
13. Por último, ¿qué podemos esperar de Integral Bread para lo que resta de 2015?
Lo único que puedo afirmar, es que este año me siento aún más ilusionado y cada vez con más ganas de seguir creando música.
Sólo espero seguir aprendiendo, creciendo, y que cada vez más gente tenga la oportunidad de disfrutar con mi música.
Muchas gracias por dedicar tu tiempo para hablar con nosotros.
Ha sido un placer. Muchas gracias a Aidan y al equipo de Change Underground
Y muchas gracias a tod@s los que hayáis tenido la paciencia de leer hasta el final esta entrevista, y por supuesto, a mis seguidores, compañeros, familia y amigos.
Find Integral Bread and Univack online:
www.soundcloud.com/integralbread.com
www.facebook.com/pages/Integral-Bread/134147726633355
www.beatport.com/artist/integral-bread/129040
www.youtube.com/user/integralbread
www.mixcloud.com/integralbread/
www.residentadvisor.net/dj/integralbread