We take a closer look at Viberate and see whether it's forthcoming ticketing solution could solve a major problem for the music industry.
At first glance, Viberate (VIB) appears complex to understand. The company was founded to solve an age old industry problem… there are more artists and DJs than there are venues, agents or promoters. As a consequence many musicians find it difficult to secure a good manager or booking agent, which means they have to go it alone.
Hunter S Thompson famously said:
"The music business is a cruel and shallow money trench, a long plastic hallway where thieves and pimps run free, and good men die like dogs. There's also a negative side"
Viberate wants to connect people and is offering every artist and DJ across the world a free profile on it's booking platform, along with a safe way to get booked.
At present, Viberate's database is rumoured to hold information for around 1.5 million artists and that figure is growing daily. All artists need to claim their profile on Viberate's website and can do so here.
How Will Bookings Be Handled On Viberate
Bookings are often fraught with issues and Viberate's new system aims to be a game changer. Unfortunately there are sometimes promoters that will reserve dates or agree to make bookings, yet don't have the money.
Viberate plans to change that. For a start, funds will be held in escrow, thus helping to 'weed out' genuine promoters, which can stop complications arising later in the booking process.
It's not all one sided in the agent's favour though, because the contracts offer promoters protection too. There are sometimes (many unreported) cases when promoters pay artists but they don't turn up. Because all contacts are stored on the blockchain, it means there's a legal record in cases of dispute.
Viberate is not just a booking platform
Whilst one of its core business models will be to host bookings (where it will earn a booking fee); Viberate is also aiming to sell software that helps music industry professionals make better choices when it comes to bookings, or pairing artists with the right promoter.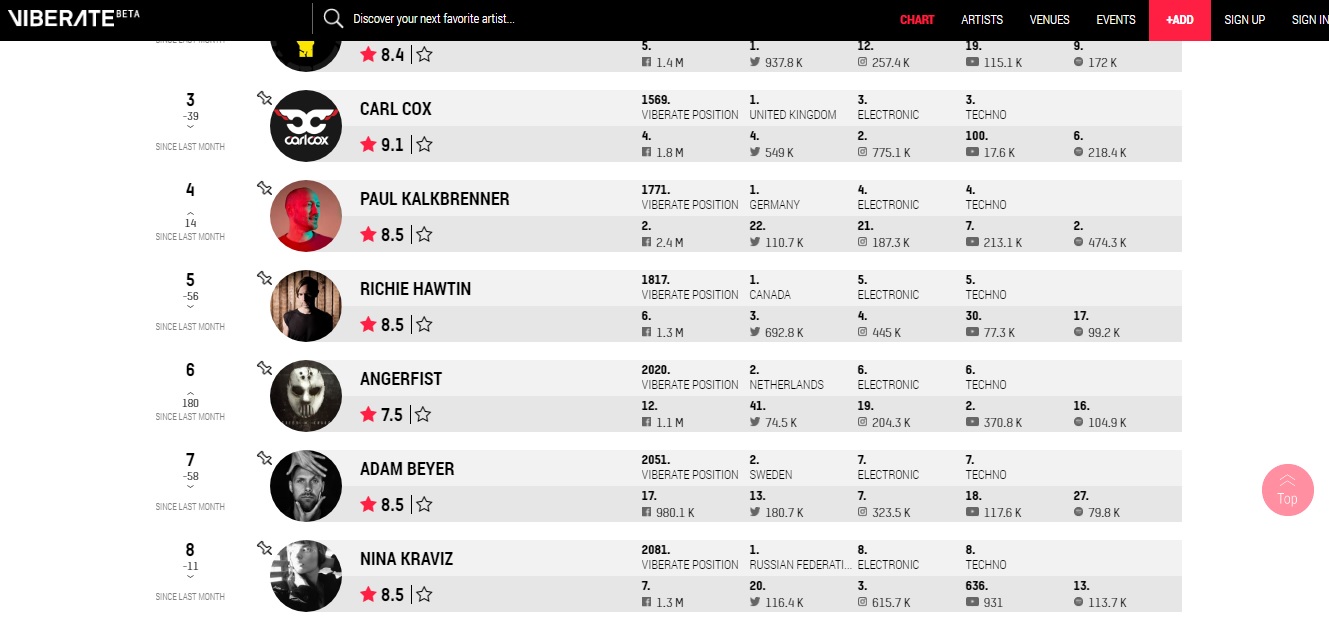 Booking the wrong artist i.e. ones who have bought fake likes (fanbases) can prove very costly indeed for promoters. So there is a huge need for a solution like this in the music industry right now.
Viberate Is Building An Industry Standard Ticketing Platform
To make things even more ambitious; Viberate is also looking to roll out a brand new music industry ticketing solution, which through the use of blockchain technology, could potentially put an end ticket fraud for good – thus solving another of the industry's major headaches.
When you consider some crypto companies are worth billions, but their ideas don't have a real world value yet; then you have to question if the market really gets Viberate? We believe it doesn't – C-U
Technology
Viberate's platform is based on the Ethereum blockchain and will use smart contracts (more about these later) to book musicians, sell event tickets, and connect fans.
Ethereum is seen as the natural successor to Bitcoin, because instead of being just a cryptocurrency like Bitcoin, Ethereum has extra features which let you run and build apps (smart contracts) on the platform.
All transactions are stored on blockchain, which can simply be described as a big database that's stored on lots of computers. The blockchain is forever growing and all the data stored in it, can never be modified or deleted.
Price Rises to Come For Viberate's Crypto Currency?
To give you an example of Ethereum's epic rise last year (the blockchain platform Viberate is built on); Ethereum skyrocketed by over 8000% (800x) in 2017. And experts believe its price could triple again in 2018!
Live Nation (Ticketmaster's parent company) is currently valued at $8.9bn on the NYSE; yet Ticketmaster's ticketing system doesn't power the whole music industry.
Viberate's presently worth $100 million. It's new blockchain based ticketing solution could revolutionise the industry and could potentially remove the need for players like Ticketmaster, if it decides to position itself as industry standard ticketing platform. Yes – you read that correctly!
So how high could Viberate's crypto currency rise (currently at $0.55)? Especially if coins don't even have a quarter of the potential are achieving market capitalisations of over $10 billion?
How can Viberate revolutionise the ticketing industry?
The US resale ticketing market in the US is estimated to be worth a whopping $5.1bn per annum! If all that ticketing data was stored on the blockchain it could help put an end to ticket fraud and scams. To sell your ticket, just exchange with a buyer through the Viberate network. No ticket or paperwork required. A smart contract on the network will handle everything! The ticket can never be copied or redeemed more than once. We're liking the sound of the future.
Changing the world won't happen without competiton
Smith + Crown a leading research platform the crypto market regards other blockchain-based ticketing projects 'Aventus' and 'Blocktix' as potential competitors. The difference with Viberate is it has an active community of around 1300 users that are contributing to it's database daily.
Also 'CreativeChain' are on a mission to manage content rights and digital distribution, so they too could steal some of Viberate's thunder.
What is a smart contract?
Imagine you want to place a bet with a friend about tomorrow's weather. They bet that it'll be sunny tomorrow and you bet it'll be rainy. You both agree that the loser has to give the winner $100.
Ethereum's platform allows you to place these bets in the form of a smart contract on the platform. The contract accepts the money from both parties and holds it in escrow. The contract checks the bet by connecting to the internet to check the weather (just in the same way your phone does through an app) and then transfers the money to the winner.
Once a smart contract has been written it cannot be edited or altered in any way, so whatever's written in the contract will always be honoured. And this is why we think Viberate is on to something, because it's creating it's a suite of proprietary software solutions (smart contracts) that it can either go on to operate or license.
What happens if the system goes down?
Right now, if Ticketmaster's main server goes down or gets hacked, it takes down everything attached to it. Viberate's Ethereum based network will only go down if every single user goes down (there are thousands btw), making it a system that will always be available. Which means wherever there's internet, there's always Viberate.