With Desaturate's 'False Dichotomies' LP recently released, we invited the Serbian artist for a special edition of What's In Your Box, breaking down the ten track journey piece by piece.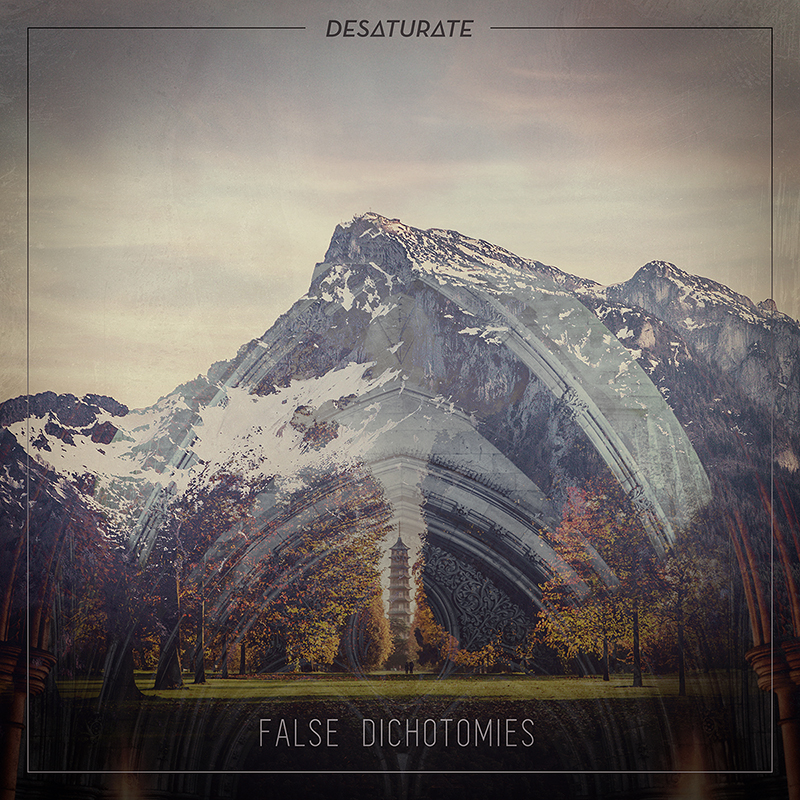 Ever since I started writing music, almost 15 years ago, it has been my wish to write an album. There is just something very special about an extended musical expression that an individual or a group can present that portrays their perception and gives you an insight into their personality and influences.
After many years of producing all sorts of music for various labels around the world, in the second half of 2015 I decided to shift my focus on writing my first artist album. Thus, 'False Dichotomies' was conceived; a concept for an album that would portray a slightly different side to my productions and show that many differences that people squabble about are all part of the same beautiful spectrum of music that many of us see as one continuous experience.
The album is a work of pure love and I have put all my heart, mind and soul into crafting it as I've recorded, written and mastered all the songs myself as well as taken care of photography and design of the artwork. So I really hope that this album will resonate with lots of other people and inspire them to do all sorts of positive things in their lives!
1. Senke
"An excursion into the deeper realms of electronic music, this piece is very dear to me as it includes vocals by my girlfriend Katarina as well as ambience recordings from the neighbourhood we lived in when we moved back to Serbia from Australia. It has a soothing dreamy feel, yet it's melancholic so combines into a very special musical message that was inspired by our return to home and leaving of another home."
2. Scurvy
"Scurvy" came about from a thought experiment of how it would feel to be on a long journey across the endless ocean in pre-modern times. It is intended to be a hypnotic experience with subtle transitions and guitar sections providing a cinematic feel to take the listener to another world and time that our ancestors lived through."
3. The Winner
"With this song I wanted to create something with a bit of a 'wonky' groove/feel, that would feel quite straight, but also very groovy at the same time. I've used lots of experimental sound sources and techniques in this piece (e.g. movie samples chopped up and some used as fodder to create synth patches) alongside more traditional sound sources (e.g. guitar licks and field recordings)."
4. Rebirth
"When it comes to inspiration in creating music I tend to find it in all sort of situations and locations. "Rebirth" holds a very special place as it has been inspired by the imminent birth of my son. It was written almost in full on the night before he was born as I couldn't sleep and to keep my mind free from negative thoughts and the 'what-ifs' I let myself loose in the studio! I ended up writing one of my favourite musical pieces that is dedicated to my son and all the ancestors whose lives have converged onto that one event."
5. Fools Parade
"In the music industry we unfortunately way too often 'parade' the wrong people. This track is written during one of my slightly depressed periods about the situation in the scene and the fact that so much quality is being buried by the 'show-people' that get paraded and whose disposable music has very little value now and almost none over extended periods."
6. Slow Burner
"I love DNB! Not many people know that as much of my production work over the last 5-6 years has been mainly in the 4×4 realm. However, during a period from around 2003-2007 I made and played out mainly DNB (especially liquid funk). A lot of times during that period I pushed myself quite a bit to 'make it happen' so to speak only to realise later that you can't push inspiration. "Slow Burner" is a song that has been on the back-burner for around 6 years and only once I decided to write an album did I find the right inspiration to make it into a full song. "
7. Pure
"Pure" brings together the worlds of progressive and DNB. To me progressive has a lot to do with the journey the listener takes when listening to such music and not much to do with often used sounds or repeating patterns. So this would be progressive DNB if I really had to classify it (I steer away from 'genre mentality'). It's a pure expression of my love for those two musical directions and the emotions that can be conveyed by the story telling entwined through them."
8. Parisian Metros
"Parisian Metros" has been inspired by my visit to Paris and the journeys taken on the many metros criss-crossing the city's underground. The sounds of trains coming in and out of stations provide very interesting risers and falls and many other ambient recordings bring back the atmosphere from that journey into this song. This is one of the many reasons why I love making music as very often it has the power to take me back to the time I wrote or the time when sounds were gathered and thus provide me with a much richer recollective experience!"
9. Apparent Distance
"A minimalist broken beat affair that takes the listener on a relatively sparse sonic excursion exploring the similarities and differences that various music camps use to convey musical messages across (again the theme of progressive sound influences in the broken beat realm). "
10. Ours
"With the closing track I wanted to create something special that would sort of encompass and close off the album experience. The name "Ours" signifies the fact that the world is our home and is ours to enjoy or ruin, but also that there are many of us that call it home and we need to be very mindful of that. The feel of the song conveys that message across by the moments of beauty as well as the more ominous tones present in the song. The differences in the end do not exist, it is all one; hence "False Dichotomies".
"False Dichotomies" is available now on the Desaturate Bandcamp page: here