We were lucky enough to grab some time with Radio1's B.Traits for an in-depth chat.
B Traits: It all started back in my hometown of Nelson, BC in Canada. As a child I was quite obsessed with music television (Much Music, or Canada's equivalent to MTV; way back before those rubbish 'reality' TV shows) and one night I was up far past my bedtime and I witnessed my first Prodigy video. That was my initial introduction to the UK sounds. I loved Jungle right from the first moment I heard it; it was completely different than anything I had ever heard before. My love just grew from there, by my early teens I began collecting vinyl records and then participating in all night rave parties. And from the very first time I saw a DJ, I knew it was something I wanted to do.
What made you get in to producing and how did you learn?  And how did you come up with the name B.Traits?
B Traits: it's a nickname that was given to me by a friend back when I was 13 or 14 years old. He said 'you have so many child features, you look so young, you have so many baby traits'. He still calls me 'Baby T'. But as I started taking DJing more seriously at 18, I made the conscious decision to abbreviate Baby, because I was coming up in a rather male dominated underground music scene and I hated the instant discrimination that came along with having the word Baby in my name. With B.Traits, people didn't know if I was male or female until they saw me standing behind the decks, which I liked and appreciated in my early years as a DJ. It made it more about the music.
You've worked your way up over the years to a well deserved Friday night / Saturday morning slot on Radio 1! Kevin Saunderson told us back in the physical days you broke a record in the clubs and then on the radio. Social media has changed the way we promote music today and news feeds are literally drowning with content. Do you think radio can still play a big part in the future, in its present form?
B Traits: Radio is still special because it's presented by a personality. My listeners tune in because they trust me to select the right music and present it in a passionate way. It's true that everything is accessible now but I believe with radio, you are tuning in for the full curation of a playlist by someone who is passionate about sharing the music with you.
Live streaming seems to have become the new standard for sharing content on Facebook. Do you have any plans to start live streaming your show? And could this be a new way to grow your audience?
B Traits: I'd really love to live stream my show but radio 1 hasn't made this accessible to specialist shows yet 🙁 They already do it for the mainstream daytime shows but it would be a bit of a push for specialist shows like mine. We would need somebody to speak up for us at the station to make that happen.
I noticed you had a very busy February and March, however the rest of your dates are mainly festivals? Is there a reason you're not playing more club gigs? Anything planned for Ibiza?
B Traits: When festival season comes around, there's a lot of festival exclusivity in certain cities, so there's not much room to do other club stuff, which can be a little bit tricky sometimes. I like that I can save all the club gigs in for the fall/autumn. I'm gonna be spending time Ibiza this summer… I will have more information on that soon. And of course Radio 1 will be back there this year too from August 4th to 6th . I love Ibiza, I've especially been spending a lot of time further up North on the island, it's great to be able to escape from the club life to the countryside and enjoy the best of both worlds.
You're playing Awakenings festival soon and the Dutch are known for gravitating towards the harder sound. Does playing harder come naturally to you?
B Traits: Yeah I think so. I usually slightly adjust my sound to wherever I'm playing. I don't get to play the harder side as much here in the UK and there's nothing quite like having a gig that you have to really think about and prepare for. It excites me when I'm playing gigs where expectations are a little different.
You're also playing the Drumcode stage at Tomorrowland. Adam seems to have been quite supportive of your music. Do I sense a link up with Mr Beyer in the future? 😀
B Traits: I'm not sure. I really love the label so that's a definite possibility, but no plans as yet.
I'm loving your new release on In Toto. What's the idea behind the label name and what are you plans with it?
B Traits: In Toto means altogether – everything in total. It's my outlet to release the purest possible expression of my own productions and my taste in music as a curator and DJ. It doesn't matter what style it is. I don't have a particular kind of sound that I stick to as an artist. It's whatever I'm feeling at that moment when I create it. Although, you do hear a common thread throughout all of my productions and the records I enjoy. It's always been a dream of mine to have my own label, and I've always wanted to press my own vinyl. The artwork I'm doing myself. The hand stamping… It takes a lot of time and effort but it's really nice to do something that's all me, something tangible that I can give back to my listeners.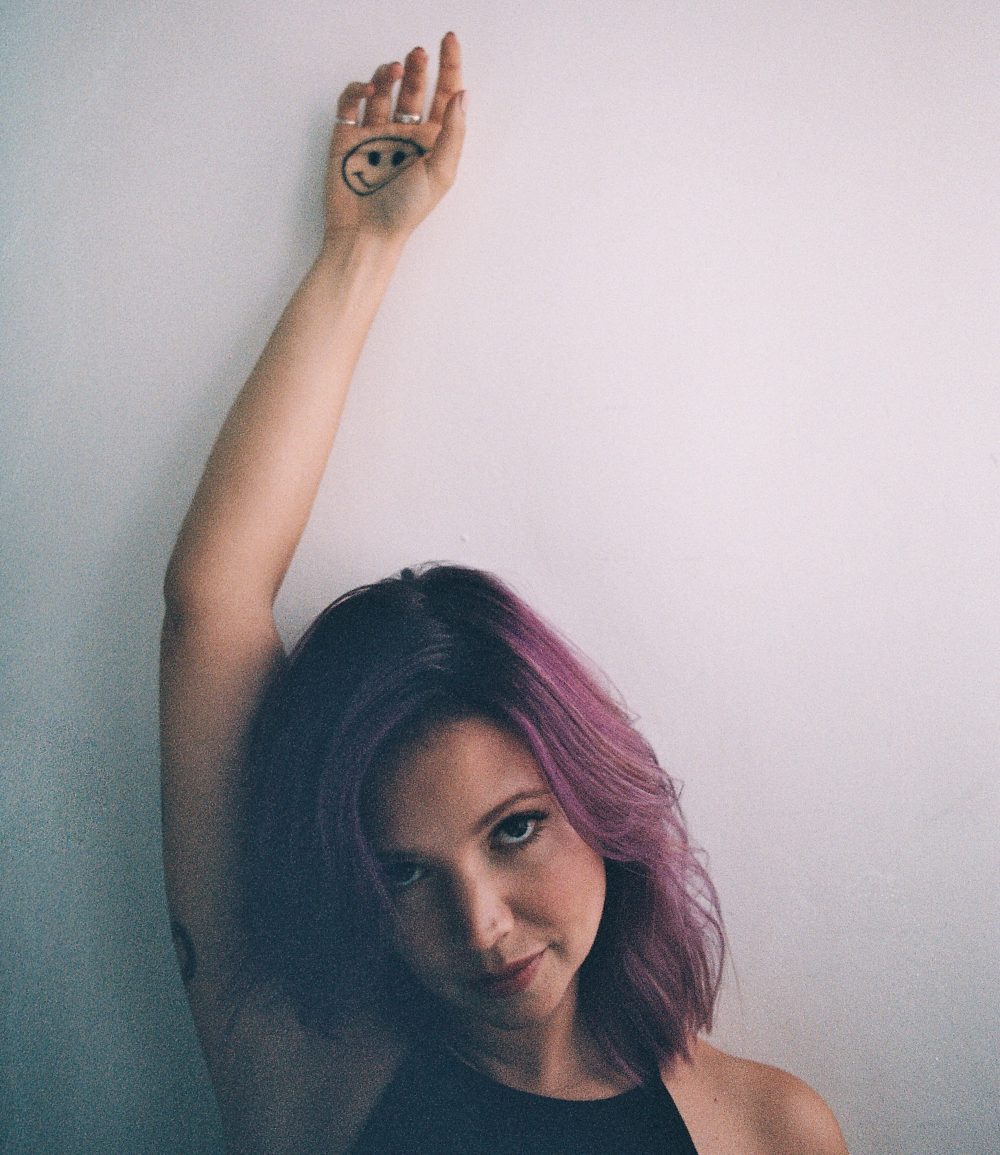 London's club scene seems to be really healthy at the moment
B.Traits: It's funny you say that because my boyfriend's a promoter and says it's incredibly competitive in London these days. I feel It's important to always have new club nights and new spaces with great sound systems that don't have sound restrictions. I suppose the only downside to having so many events on in London is that sometimes gigs are not as busy as they should be, because of all the competition.
IMS named you as one of the most important voices in dance music right now. How does that it feel?
B Traits: It's pretty awesome. They've stood behind me and let me speak about anything I feel passionate about. I don't have to censor myself there. It's good that we can have those discussions, no matter how fractious they may be 🙂
Dance music has always been male dominated. Why do you think there are more male DJs and producers?
B Traits: I really hate this statement. There are so many career fields that are typically expressed as 'male dominated', for example, look at the film industry, or the food industry. I'm not sure of the scientific reason why, but I believe it's because of the traditional thoughts behind women and their place throughout history. There have been a lot of changes, in my 12 year or so career, I've seen the numbers grow immensely. There are many more woman in our industry than ever before, and this number will continue to grow. The next generation of 'female' DJ's will not relate to your statement.
There's no shortage of female DJs out there right now btw.
Is there something the industry can or should be doing to even things out?
B Traits: I think it's important for people to be conscious about it.
We need to tackle sexism like racism, if you're hearing sexist comments or think something is sexist – people need to stand up and say that's not okay. This also counts for transgender rights too.
The scene is becoming more inclusive, so it's something we need to keep discussing, to keep pushing the conversation forward.
There tends to be a lot of all male line ups at clubs and especially on labels
B.Traits: If people are seeing all male line ups and are genuinely tired of that, or think its sexist, they should be saying something to said promoters or labels. Call them out and let them know your thoughts.
As you know, this site is about promoting emerging talent. Can you name 5 female producers/DJs on their way to bigger things?
B Traits:
Julia Govor
Dr. Rubinstein
Peggy Gou
Avalon Emerson
Amelie Lens
This list was far too easy to create!
You recently switched to the Paleo diet, which is all about eating real/whole foods. How is that working out for you?
B Traits: I've been paleo for nearly 5 years now. I started having a lot of DJ gigs, and found myself becoming unwell a lot of the time. I tried many different eating styles, vegetarian, vegan. The paleo thing just seemed to work for me. When I tried the vegetarian and vegan diets I found I was literally withering away, I felt I was missing something important for my body. Being paleo allows me to still enjoy everything I love about food, I just take out all of the processed stuff and cut way back on all grains, pulses and lentils.
Finally, can you tell us what else you have coming up or are most looking forward to?
B Traits: This year I'm focusing on growing In Toto as a label and a brand. I plan to release a few EP's this year, and a compilation album. This summer at SW4 I will be hosting my own stage, curated by me but with a bit of a twist; the stage will showcase more of the 'live' side of the music I love. For example, Dusky, Audion, and Max Cooper will all be playing live sets, and Carl Craig will be presenting his Versus Synthesizer Ensemble.
I am also playing many more European festivals this summer than ever before, which is exciting for me as I've wanted to break out of the UK market a little more, I'm particularly looking forward to Awakenings, Melt, DGTL Barcelona, Zurich Openair, and Brunch Elektronic.
Thanks for chatting with us B 🙂