Nick Warren is one of the true greats of the scene. He first rose to fame with Way out West in the 90s and has remained at the forefront of electronic music for over 20 years.
Hi Nick, it's a real pleasure to catch up with you. Let's talk memories: where's the biggest gig you've ever played?
Hi mate, gosh there have been so many. One that stands out a lot was playing the main stage at Creamfields Buenos Aires many years ago. It must have been around 10 years ago or more and there were only 2 stages, a massive main stage which I played along with Hernan and Sasha, the response was bloody huge, hundreds and hundreds of flares burning red in the air and the crowd just going crazy the whole time, something that will always stay with me.
What was it like to play at Cream? To many, it was the pinnacle of underground dance music in Britain at it's peak. We know you're loving playing in South America these days. How do the crowds in Argentina compare in the present day?
Looking back, Cream was bloody amazing, it went off every week especially the annexe days, but it did go off the boil pretty quickly once the original generation of clubbers stopped going there and musically they moved far to much into trance for my liking. Places like Argentina on the other hand seems to keep producing new clubbers that love everything underground, from deeper sounds thru to Techno, it never seems to fail a single DJ who goes there.
Tell us about one of the funniest things that's ever happened whilst you've been on tour?
Ending up naked in a corridor instead of my loo after waking in the middle off the night jetlagged was massively embarrassing and having to go down to reception clutching the crown jewels asking for a room key. Not my best moment.
What was it like to play on Top of The Pops and see yourself on TV when you were with Way Out West? Did you get to play live?
We didn't get to play live and it was pretty disappointing, Peter Andre was number 1 that week and he was in the next dressing room covering his chest in oil while humming Mysterious Girl!
You're big mates with Hernan Cattaneo and your back to back sets are the stuff of legend. Where did you first meet Hernan and how did you become such good friends? You're both getting similar tunes sent to you, so do you agree who can play what beforehand? For example, has Hernan ever dropped a tune you really wanted to play just before it was your turn…?
He is a great friend of mine and a superb man, one of the true gentlemen in the scene. We never need to discuss tunes, it just seems to happen instinctively. We first met at Cream in Liverpool as I remember and of course the first time I went to play in Argentina he was there. Our B2B thing is just magic to be honest!!
Do you miss the Global Underground compilations?
The GU compilations were so important at the time and it was a real honour to be asked to do so many. Having said that I think those days are gone to be honest and the series best remembered as something special of that time. The main reason it was so good was that it was run independently by two party guys who love the scene and the music, which is not so easy to do these days.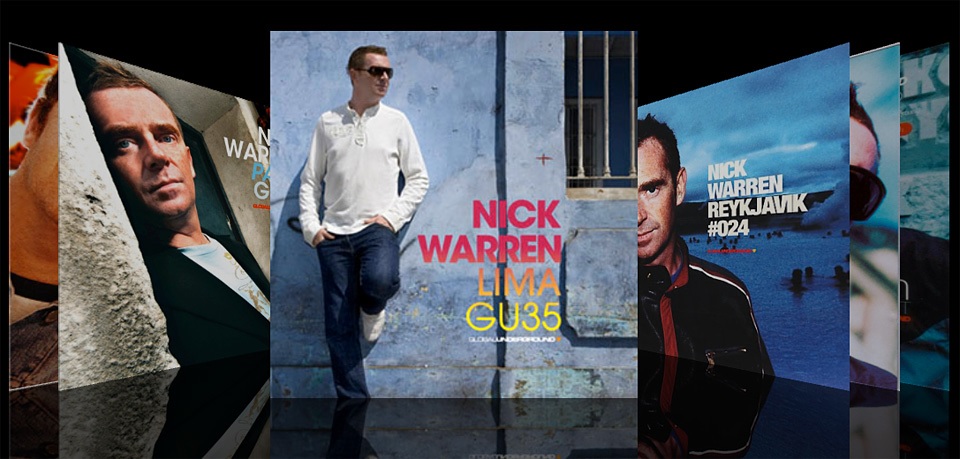 Something that we're really looking forward to is your Sound Garden album. We've heard the teasers on Soundcloud and there seems to be a huge buzz surrounding it. What inspired you to do this as a Pledge Music campaign?
Well I wanted to do the album myself at Hope Recordings and after having done so many albums thought it would be fun for the fan base to get hold of a few special offers like the T Shirts, VIP tickets with meet and greet etc, it seems to have proved really popular and as I write this I have heard we have reached a 100% which is fantastic. You can until the campaign ends in a month's time. The tracks are all amazing and the compilation will be released in mid June.
Making an amazing mix album is no easy feat. Having worked on a few myself, I know there's so much hard work that goes in to creating one of these mixes: the A&R, set programming, mix designs etc… do you ever have to get artists to re-edit the tracks so they fit the mix?
I tend to do any edits myself in the mix, it is very different to doing a club mix so must be looked at in a specific way. You want tracks with an almost timeless vibe and I am not frightened to put in a few things which have been released for a while as well as all the exclusive tracks that I've commissioned especially for the album from my current favourite producers.
Can we expect a global album tour to be announced at some point?
Yes defo, it looks like I will be doing plenty of Soundgarden shows through the year alongside many of the artists featured on the compilation. Can't wait!!
Hope Recordings is undoubtedly one of the most respected electronic labels in the whole world. When can we expect some more stuff and who have you got coming up? We're guessing the Soundgarden CD has been taking up all your time?
Thanks very much! Yeah the Soundgarden album has taken a lot of time this spring and we will also do a remix package of some of the choice tracks on the album.
We saw Hope's YouTube had recently been revamped with all the back cat on line, available to stream in full. Do you think free streaming is the way things are starting to go in the industry? For example – in the mainstream world, Skrillex has just launched a free label. With music sales the way they are, could we soon see big dance music brands and touring artists bypassing Beatport completely and just giving music away?
Wow that's a big step from Skrillex but one I am sure will be more common. But to be honest is it really right that producers, engineers, label owners and staff should have no income stream? It may be fine for big DJ's like Skrillex who can generate huge numbers of fans at his shows, but how about the young kid living in Acton who makes tracks in his bedroom hoping to pack in that job in the meat packing factory, how is he going to make a living from music?
Being Nick Warren, you're always getting the world's best music first. Are there any artists we should be keeping an eye on? Plus are you still championing the progressive sound these days?
I tread a slightly deeper and more groovy path these days. Gardens Of God, Lord of the Isles, Patiac, Vimes to name a few are all ace.
Can you share with us some of your favourite all time electronic artists?
Orbital in the early days, Leftfield, Nils Frahm, Future Sounds Of London, New Order, Orchestral Manoeuvres In The Dark, Brian Enoe etc…
We know you're in to fishing but can you tell us something else about you that people don't know.
I love my food and cooking, Fly fishing is a huge passion for me, and of course spending time with my fiancee Petra and my lovely daughter Esme, who is going to her first festival on her own this year! Time flies.
Last but not least, can you put us out of our misery and tell us when the new Way Out West album going to be finished?
The album is coming along well, still needs the vocals sorting and needs a bit of work but I am really pleased so far!
Connect with Nick Warren @ www.djnickwarren.com