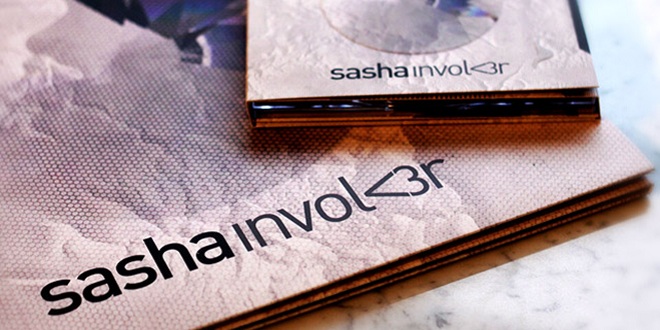 Involv3r is finally here!!! It's been nine years since the release of Invo1ver, the mix album that put to rest once and for all the myth that DJing isn't a creative endeavor itself, and can only be parasitic on the creativity of others. Sasha and his team decided to throw out the conventional wisdom that if it ain't broke don't fix it, overhauling all nine tracks before creating a mix that wove between breakbeats and four-to-the-floor rhythms while still managing to possess an extraordinary unity. I seem to have been one of the very few who found the sequel in 2008 a bit of a disappointment. For all it had some stunning moments, it felt much more like a conventional progressive house mix that the original had; the breaks had disappeared, and the album presented a much flatter musical landscape as a result. So when the first clips of disc 1 of Involv3r became available, it was with a little trepidation that I noted that we were in for 12 house tracks back to back.
In fact, if anything the mix is even more homogenous than 'Involv2r', in terms of both style and tempo. And in style it's, well, pure pop. Proggy/electronic pop rather than anything Simon Cowell's likely to be found trying to shove down your throat, to be sure, but pop nonetheless. There's only one instrumental on the entire album, 'Wine' by Blondes, which sits nine tracks deep in the mix. The rest of the album features eleven different songs, which Sasha builds into an 80-minute slice of high energy electro-pop.
And you know what? It's brilliant. Three tracks in, halfway through involv3r, Little Dragon's 'Crystalfilm', I realised I was completely in Sasha's grip, and that feeling didn't let up until the album faded out. Sasha has a great ear for pop music, and he and his team have absolutely mastered taking a song and retooling it for the dancefloor without losing its pop sensibilities, as their Beatport-conquering remix of Hot Chip showed last year.
It's not hard to pick out highlights. Taragana Pyjarama's 'Growing Forehead' acts as an extended intro to the mix, setting the tone perfectly. I've already mentioned Little Dragon's 'Crystalfilm', which pits an infectious vocal against a massive, constantly shifting bassline. This is followed by The xx's 'Chained', which nicely evokes The Beloved's 'Sweet Harmony', a record that could serve as a kind of prototype for much of the album. The closest thing to a classic Sasha sound we get comes during the breakdown of Ultraista's 'Smalltalk', where the gorgeous lead synth lines of the original are twisted into a moment that could easily have come from Airdrawndagger, while in his hands Ananda Project's landmark 'Moment Before Dreaming' becomes simultaneously more haunting and more upbeat. The 10-minute closer from Foals is perfectly placed, drawing the album to a close with a piano-led finale reminiscent of Sasha's own remix of Moby from a couple of years back, but packing much more emotional punch.
Viewed purely as a piece of mixing, Involv3r is unlikely to be chalked up as Sasha's most memorable album. That's not to say it's badly put together, which would be patent nonsense. But the tracks sit much more in isolation from each other than the previous installments would lead one to expect, and the emphasis seems to have been more on the individual tracks and how they cohere into a larger piece of music than on the individuals transitions between tracks. There's no analogue here of the unmistakable guitars and splintered vocals of 'In a State' drifting over the bass from 'Spooky's 'Belong' from the original album, say, or of Thom Yorke making a surprise appearance on an instrumental M83 cut from the second. That said, the mix builds really well from a housier first half to more driving material in the second.
I predict that this will be an album that divides people. Some may accuse Sasha of selling out: of turning his back on his roots. My own final verdict is very different. Disc one of 'Involv3r' is smart, confident, playful, melodic, moving when it needs to be, propulsive when it needs to be, utterly unique and, when all is said and done, thoroughly enjoyable – I've only rarely enjoyed listening to a new mix compilation this much in years. I just hope Sasha doesn't make us wait another half-decade for the next installment.  9/10